---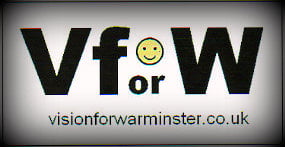 2022 - The Year That Saw Our Community Face The Future With New Vigour

---
---
Local People Now Seeing How Our Town And Parish Councils ... and Wiltshire Council Go Forward

---
VFW is now up and running again in 2022
---
Tuesday 22nd March 2022 - Excessive and expensive houses plan on farmland bordering Warminster gets unanimous local opposition - click on hot topics above
---
17th August - The latest on the town centre eyesore - click on hot topics above
---
The month of August begins - Heytesbury Tops The Member of Parliament Opinion Poll 'Villages Ride' - another hot topic above

---
27th July - Soldiers at risk get support as planning decision gives busy road its marching orders .... latest hot topic
---
21st July - Independent Councillor Wins Support For 'Planning Gain' Town Houses At Committee .... hot topic

---
Monday 19th July - Within weeks newly elected town councillors in action at dangerous road junction .... latest hot topic above
---
Tuesday 13th July - Community farm project excites Warminster town councillors .... click on hot topics above
---
Saturday 10th July - Police Election Knockout Blow Choice In August Local Councillors Discover .... latest hot topic above
---
Monday 5th July - Blooming Success at Tiny Village Buzzing with activity at the weekend aids Church Appeal ..... click on hot topics above

---
1st July - The local community heat over the Westbury Incinerator plan burns as brightly as ever .... Latest hot topic
---
Monday 28th June - 'Slow Down' - SID Will be Watching You - Wheels are in motion .... hot topic
---
Tuesday 22nd June 2021 - 'Splash the Cash' decision for town park .... hot topic
---
Tuesday 15th June 2021 - Town Council reacts to a contentious housing idea with record number of objections .... click on hot topics above

---
1st June -'Tyred Out' Challenge To Local Councillors and Wiltshire Council - latest hot topic

---
Friday 28th May - Sign Parliamentary Petition To Save Green Fields Urge Campaigning Town Councillors - hot topic above

Warminster Journal is selling out fast this week - Letters page and front page a big talking point.
---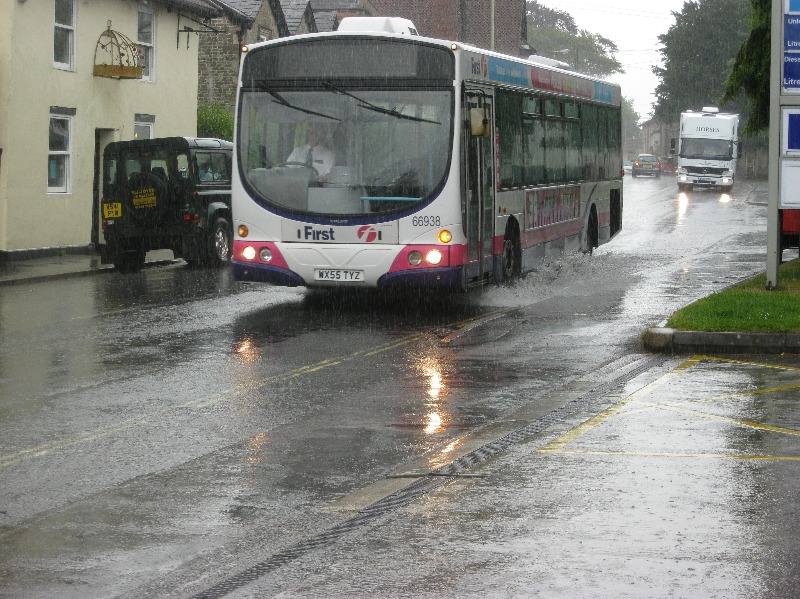 Council Snippets - Wednesday 2nd June 2021 - Action on speeding car drivers .... Dangerous road junction .... Grit Bins updat.... Speeding complaints .... Town Park Update ....Two road surface complaints rejected by Wiltshire Council .... Lessons learnt gullies being cleared .... Indepedent councillor committee vice-chairman .... Trip hazard made safe .... Ideas for extra picnic benches .... and more
---
Thursday 27th May - MP Covid Heroes Nominations - One Has to Be Warminster Action Group - latest hot topic
---
Wednesday 26th May - Village Parish Council Plans For Its Future- hot topics

---
Tuesday 25th May - Unique Town Park Attraction Saved For Future Generations - hot topics above
---
Saturday 22nd May - Friday evening public forum with a 'sting in the tail' - hot topics above
---
Friday 21st May 2021 - Damask 'Eco-Damage' back on the agenda - Town given another chance to have a say - latest hot topic
---
Thursday 20th May 2021 - Damask Way News from Cllr John Syme - Wiltshire planning officer has agreed to extend the consultation period - Three new Independent town councillors now involved

---
Tuesday 18th May 2021 - Knock out blow to new way of doing things at the council last night - Click on Hot topics above
---
Monday 17th May 2021 - Town Council Challenged at their Mayor Making Meeting - and more updates - click hot snippets above

---
Sunday 16th May 2021 - Click on 'Council Snippets' above to see how Independents start to meet one of their promises in a positive way

---
Thursday 13th May - Latest Hot topic - New Idea Immediately Gains Support - Who Should Be The Next Mayor of Warminster?
---
Tuesday 11th May - All Three Election Results Have Been Counted - Droves Vote In Town Council Shock - Click On Hot Topic Above
---
Sunday 9th May - News is coming in - Independents Stacie Allensby and John Syme are now town councillors against all the odds - Paul Macdonald gets a huge vote of confidence

---
Saturday 8th May - Want To Get Something On The New Town And County Councillors Agenda - click on hot topics
---
Friday 7th May 2021 - Nailbiting Times For Some After Votes Have Been Cast in the Local Elections - latest hot topic to click on above
---
Eve of polling day 5th May - Local Candidate Listens - hot topic now
---
4th May - Golden Opportunity Not To Be Missed Will History Repeat - click on hot topics above now

---
---
Wednesday 28th April - Why Re-invent the Wheel? Words that were stopped from being heard revealed exclusively - Latest hot topic .... leading on from ....

....Tuesday 27th April - Town Council 'Put Your House In Order' Call - Hot topics above
---
Updates - Wednesday 21st April - Controversial - Wake Up Again Message - See latest hot topics
---
This month - Big Surprise in the local elections .... Veteran successful councillor is back in town .... Tories cannot walk in unopposed .... latest hot topics
Tuesday 13th April - Independent town council candidate stands up to the establishment .... hot topic now

---
Saturday 10th April - Last minute decision assures voters of Warminster a fresh chance to vote - click on hot topics
---
Friday morning 9th April - Voters in the town council elections will now have the chance to have a positive voice as Pound Street resident Malcolm Mellersh is also standing as an Independent candidate

---
Friday 9th April evening - Thirteen Tory candidates nearly took up all the seats around the town council table .... Two are there unopposed .... but Warminster residents have a choice about the other eleven as four Independents delay the party ....Hot topic tomorrow

---
Thursday 8th April - More Independent minded residents have taken the plunge into the politically infested waters at County Hall - Local businesswoman Stacie Allensby and 'Days of Yore Councillor' John Syme are in the pool .... more follows
---
Wednesday 7th April - Independent minded Paul Macdonald of visionforwarminster.co.uk has successfully delivered his nomination papers to county hall .... News about others tomorrow

---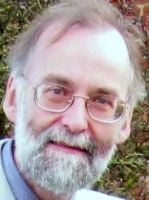 Tuesday 6th April 2021 - visionforwarminster.co.uk is active again - more tomorrow
---
16th September - Town Council joins floodgates of objections over Incineration plans - latest hot topic
---
Monday 14th September - Editorial - Panic New Planning Rules Threat of a 'Wild West' and to Sustainability - Hot Topic

---
Saturday 12th September - Local MP Speaks Out - Westbury didn't lose one smoke stack only to get another - click on Hot Topics above

---
Friday 4th September - VFW is taking a short break
---
Wednesday 2nd September - Exclusive - Our MP says how well Warminster is doing in a positive upbeat message - latest hot topic

---
Tuesday 1st September 2020 - Custodian of the Town Library and Campaigner thrilled by successful first week re-launch of doors re-opening - click on hot topics
---
Friday 28th August - Octogenarian villager with green fingers amongst those thanked by the local council - hot topic

---
Wednesday 26th August - 'Futuristic' looking Town Library successfully re-opens - hot topic today

---
Monday 24th August - Would you like to take a peek at how the Town Council income is now at a record level? How? - click on hot topics above
---
16th August - Town Council 'quid pro quo' Covid finance balancing act - 'hope everyone is happy with that' gets silent treatment - hot topic now
---
Friday 14th August - Poundland numbers now 'stack up' and its days are not numbered - it will stay open - latest hot topic
---
Monday 10th August - Rallying Call from MP to be answered tonight by Warminster Councillors - Widespread Gasification Protests - click on hot topics and a comment now in hot snippets

---
Wednesday 5th August - Local Folklore Created At A Dancing Clapping Inspirational Tiny Wiltshire Village - click on hot topics above

---
Tuesday 4th August - Poundland 'Numbers Do Not Stack Up' forcing the disappointing closure decision - latest hot topic above - Still awaiting a reply from the owners

In more local news - These times need a 'scary' fun response and the carnival committee found a way .... Answer to eerily quiet streets this autumn .... hot topic now
---
Thursday 30th July - Urgent Hot topic - Pound for Pound Poundland - Is it worth it? Popular shop immediate closure in August - Will a 'save it' campaign be launched?

---
Tuesday 28th July - Local Residents show the Town Council how Bats Love their Warminster Home - hot topic now
---
Monday 27th July - Warminster based Charity Assistance Landmark Reached - click on hot topics
---
Friday 24th July - Is a civic storm brewing as a resident uses her pen to highlight that the future of the Library is revealed on page 72 of a council document - latest hot topic

---
Wednesday 22nd July - Upbeat 'Beat' report with 'Nosk' Danger warning as the Community Police Team deal with the latest easing of pandemic lockdown - click on hot topics above

---
Tuesday 21st July - Councillor pitches up for Rough Sleeper giving Police and all of us pause for thought - Civic centre town meeting last night by social distance - hot topic latest

---
20th July - Town Councillors Commit to being Greener promising to lead by example - Climate Change response tonight - latest hot topic
---
Plus 'Electric' Pre-payment Energy opportunity for those most in pandemic need - hot topic today
---
Friday 17th July - 'Busy Bees' Week as Conservationists get Buzzing about saving the environment of the Bumblebee - latest hot topic
---
Tuesday 14th July - Snapping out of lockdown the Warminster Way - Go Rural - Hot topic now
---
Thursday 9th - 'Bee' progressive and 'bug' councils to do more to make Warminster greener .... local scientist explains how - hot topic

---
Wednesday 8th - Outdoor exercise boost for young and not so young as outdoor gym and play areas are no longer out of bounds - hot topic

---
Tuesday 7th - Rallying Call .... Septuagenarian bookworm urges Warminster Library users and future users to save the seat of learning from post pandemic cutbacks - hot topic

---
Sunday 5th - Good News .... Warminster is on the radar of a major new employer .... Councillors should act now ....

Mayor Robbins welcomes the opportunity - hot topic
---
Thursday 2nd July - Church emerges from Lockdown with a lot of handwashing - latest hot topic
---
Tuesday 30th June - Doing The Covid Emphysema Walk in 2020 After a Light Came On - New Hot Topic

---
Tuesday 23rd June - Grovelands Countryside and Wildlife Park Volunteers Look to the Future - hot topic

---
Saturday 20th June - Are Town Councillors Sitting On Their Hands? - hot topic

---
Friday 19th June - Immediate Response from Andrew Murrison MP and Rallying Call to Fight New Proposals for Waste Disposal - Hot Topic
---
Thursday 18th June - Community should step up to the mark to help Schools - hot topic
---

Wednesday 17th June - Popular Call to Action 'Blue Heart' Campaign Success as Town Council adds it to their agenda - Hot Topic
---
Tuesday 16th June - 'Coronavirus Bubble' Joy Arrives in Warminster - Hot topics

---
Monday 15th June - Long Standing Town Centre Illegal Fly-tipping Forces Action - Hot topic

---
Friday 12th June - Hedgehog Campaign through to Alzheimer's Support group benefits from Town Council Grants - Hot topic

---
Wednesday 10th June - £5000 Council Pandemic Emergency Small Business Grants available for two weeks but with a 'sting in the tail' - latest hot topic
---
Monday 8th June 2020 - 'Get on your bikes' Call to local councillors - latest hot topic
---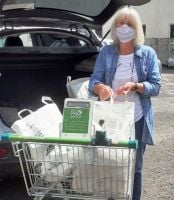 Friday 5th June - Tons and Tons of Community Support for those in need given by Warminster Charity in just one month of Coronavirus Lockdown - hot topic with photos

---
2nd June 2020 - Shameful Wiltshire Council decision hits Warminster workers and shops - hot topic

---
27th May - Fitness for Purpose Question posed - see latest hot topic
---
26th May 2020 - Prompt Reply gives hope to good causes for a few more days - Hot Snippet

---
Bank Holiday Monday 25th May 2020 - Extend Grant Applications Plea to the Town Council - hot topic

---
Sunday 24th May 2020 - Veteran community politician Paul Macdonald calls for planning applications to be put on hold- hot topic now
---
Sunday 12th May 2019 - BBC Question Time will be in Frome soon - We need modern day Independents to have their say after the recent local election results - Including one or two from Warminster?
---
8th May - 'Game of Homes' Police Appeal supported by former town and district councillor - Hot topic now
---
20th March ... Knife Crime 'arrest' update to Hot Topic ... 19th March ... Knife crime hits Warminster again ... Local Police get no extra government help ... Read the hot topic now

---
11th March ... Dr Andrew Murrison MP debates the special education needs of Wiltshire children at the House of Commons'
---
14th January ... Should Warminster 'SEND' a message to Wiltshire Council about controversial plans to close 'special' schools in Wiltshire

---
8 January 2019 ... A 'Crisis' Call to Alms has been issued for another threatened Historic Building ... hot topic now

---
6 January 2019 ... Warminster 'Feel the Heat' Incinerator Challenge ... Hot topic now

---
18 March 2018 - After another ten years community campaigning Paul Macdonald takes a back seat - Town Council vacancy

---
8 March 2018 - So long Waitrose, thanks for all the coffee but Automatic Number Plate Recognition sucks - CLICK HERE
---
17 February 2018 - Wiltshire Council 'Penny Pinching Gone Mad' target Warminster Car owners again - click on hot topics above

7 February 2018 - Independent Town Councillor puts Remembrance Day back on the agenda - click on Hot Topics above

---
30 January - Support local farmers, local employment, and do something positive about the scourge of plastic waste says local town councillor - latest hot topic above
29 January - Controversial Damask 'on the Cusp' houses plan gets no support from the town - Hot topic

27 January - How far are the Town Council prepared to back Independent support for the Prime Minister - hot topic

25 January - Tory Warminster Council slips in 32 per cent tax hike at first opportunity following election - but members stay silent about crumbling county services CLICK HERE
---
24 January - Wiltshire Council Today GIves Thumbs-up to Controversial Grovelands Way Development - Click on hot topics above

---
22 January - Town Councillor calls on residents to back a move to save local police officers jobs as Wiltshire faces a £3m shortfall - latest hot topic
Angry crowd forces town's area board to confront Warminster's homeless issue. The Issue for this month - See Hot Topics
15 January - Another Wiltshire blow to Warminster - Car parking charges above inflation increase - 'Mourhino style' Cllr Paul Macdonald speaks out - Hot Topics

---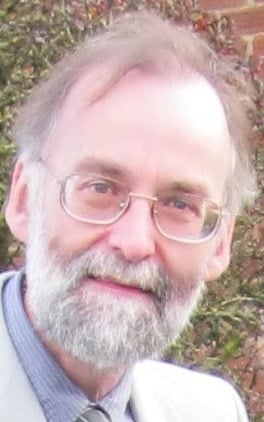 'The New Year brings a Liberal and Independent need to rally together to bring a positive fresh vision and challenge for Warminster as it faces the decisions made at Westminster and at County Hall' Says Cllr Paul Macdonald
---
Experienced Independent Councillor Paul Macdonald sent to the sidelines as 'Buggins Turn' becomes 'Blue Buggins Turn' only - You Say - We Say
---
15 May - Rowboating Mayor Fryer causes controversy within minutes of appointment - Civic 'Nosh-up' is his demand - See Hot Topic
---
11 May - Less than a week after Independents proved themselves to be the major challenge to the Tories here an Independent stands for the general election

---
9 May - First reaction of voter in 'You Say- We Say' - Have the Independent 'Two Pauls' hands been strengthened? Click on the above
5 May - Two Independents withstood the national general election 'blue tide' that swept the local elections - results on Wiltshire Council website now
---
Latest Independent 'eve of poll' leaflet may not be glossy but it lays out in black and white 20 key local issues - read now in hot topics
---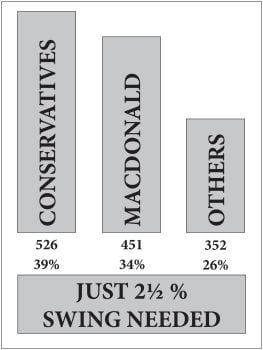 In 2013 Paul Macdonald showed that the local Tory stranglehold on the county council could be challenged - Look at the result - Can you make a difference and vote for Independents all over the town?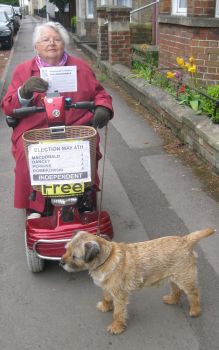 2 May - Five hours into leaflet delivering tired Independent candidates were spurred on to do another 180 minutes - Her request was to sort out inconsiderate dog owners.

28 April - Tory Bus Services Consultation early 2016 results still not revealed - Shock for Warminster Users - latest hot topic

28 April - Read our Hot Topic - How Dog Fouling Litter campaign by Paul nearly succeeded - a new approach

27 April - Newcomer to Warminster highlights town centre decline - You Say - We Say - And Anger at Tory Leaflet Achievement Claims in Hot topics
26 April - Tory supporter laments the poor quality of local Conservatives in Warminster and Wiltshire - CLICK HERE

22 April - Warminster does not have to be a Cinderella town again - Paul Macdonald says 'give me four years' - CLICK HERE

---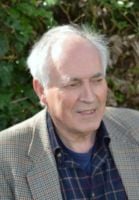 20 April- What makes Independent t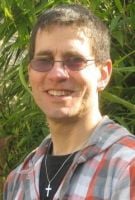 own councillor Nick Dombkoski want go on serving the residents of the East Ward - hot topics above
19 April - New Town Council hopeful John Medlicott reveals how he is answering the question 'Why Vote Independent? Hot Topics above
---
18 April - Could May national party politics ruin the chances of Independent local council candidates? The PM seeks to start a general election tomorrow - Strong team of Independents hot topic today
---
17th - It all began with Batchelor Dancey and Macdonald - then Batchelor Cullen Dancey Dombkowski and Macdonald (elected 2013) - This time Allensby, Batchelor, Creese, Cullen, Dancey, Dombkowski, Macdonald, Medlicott, and Mellersh - Independents Day Thurs May 4
11th April - The local elections in May update - Enjoy the easter egg season - Our daily local election coverage will start on Tuesday - We are talking about being innovative
---
6th April - Having deserted town council elections four years ago the LibDem plus Labour and the Greens have candidates - Should we Independents ask them why? Where have they been? Independent national issue success in the last four years - this council is committed to opposing fracking - joins many local issue successes
---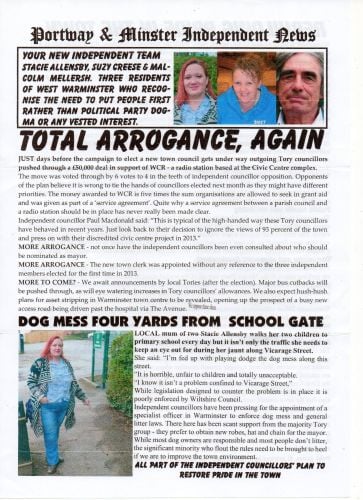 Mother of two Stacie Allensby lives in Vicarage Street and starts her campaign with a leaflet about 'playing dodge with dog poo' four yards from school gate
---
'£50,000 County Councillors' - Sense of Community Changes Needed - Latest Comment in You Say - We Say above
---
Syme of the Times - Time to stand and deliver says a long-serving former councillor about town centre eyesore - latest hot topic
---
Six Tory Councillors rubber stamp 'obscene' £50,000 'gift' to radio station at their final full council meeting despite Independent request for a two month delay - Hot Topics and You Say above

---
"Our town faces an exciting challenge" says Cllr. Paul Macdonald. Independents will be standing across the whole of the town for the Wiltshire and Town Council elections in May
---
TOWN ELECTIONS - TORIES PUT BUMS ON SEATS UNELECTED - GUESS WHAT? - LAST TIME MAYOR AND TORY CHIEF LOST HIS SEAT TO AN INDEPENDENT - FEEL YOU'VE TAKEN A BIG PART ABOUT ISSUES IN THE LAST FEW YEARS - JOINING US IN DOING SOMETHING ABOUT IT IS EASY
---
HOME FARM planning application. Wiltshire Council has extended the deadline for comments on this application until 9 January. We would urge all readers to object to this application. CLICK HERE to register your objection to County hall planners
---
Wed 21st - Unelected former councillor back in charge yet again?... Read the town council minutes ... CLICK HERE
---
14th - Question asked - Conservative MP Andrew Murrison opposes Home Farm plan - Tory town councillors opposed him on Monday night - Who is right?
---
Tues 13th - Warminster Town Council town clerk post APPLICANTS BEWARE AS THE JOB COULD BE SHORT-LIVED CLICK HERE
---
Monday 12th - HOME FARM BISHOPSTROW - town Tories' breathtaking arrogance, bad manners and immaturity on full show to the public CLICK HERE
---
Nag's Head pub in Portway to re-open as a curry house CLICK HERE
---
Thursday 8th - 'Boreham Place Outline Plan' is outside the line for housing - public comments deadline tomorrow - Wiltshire Council needs a response to application 16/10502/OUT for Home Farm Bishopstrow
---
Friday 2nd December - HOME FARM APPLICATION - Planning advisory committee to discuss proposal for 135 dwellings CLICK HERE
---
14 November - Neighbourhood Plan result on Thursday - Very poor turnout - Yes 1660 - No 477 - A big NO - Three years Town Council work should have much more support - question - Why did so many vote against?
---
1 November - Thumbs-up - Wiltshire Council will be handing over the town park to the town council who are cracking on in the meantime to deal with urgent works
---
30 October - Independent Councillors asked for more info - front page news about 'Neighbourhood Plan' town council response to 'referendum' poll cards - Is it too late for another public meeting?
---
28th October - BREAKING NEWS -- Man dies after being 'tasered' by police in Warminster CLICK HERE
---
28th October - The Referendum' is held under rules similar to spending at a council election - We at vfw are aware - We have a record of our nominal and actual expenditure - Are others and local newspapers following the rules?
---
27th October - Town Council Clerk gets front page lead in the 'must read' local paper - response to concerns about the the Neighbourhood Plan - Did councillors authorise this? - 40p to read the 'official' view issued under guidelines Read the Warminster Journal - Warminster Journal in newsagent
---
26th October - In November vote 'No' to the Neighbourhood Plan is on the cards - WHY? Over the summer Wiltshire Council insisted on major amendments and has effectively 'hi-jacked' it - Town councillors and co-opted members were clearly not happy with the final document
---
25th October - The remodelling of the police houses - the relocation of the Friday market and the coach stand - asked today - and single management regime for all car parking is in the Neighbourhood Plan - How will you vote?
---
24th October - Are the rumours about a threat to our popular town Library real or baseless? - Asked yesterday - The Neighbourhood Plan 'public' vote next month is on 'the provision of enhanced library facilities' with no location mentioned - Is it 'councilspeak' for knocking it down and 'dumbing it down?
---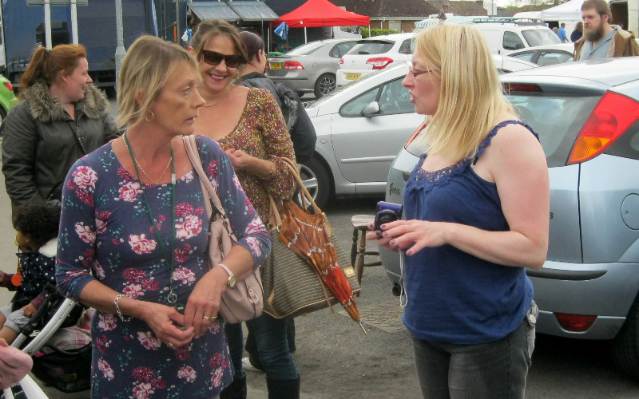 22nd Oct - What hides in the plan? - Campaigners for a 'No' to the 'The Road' from Portway to the Avenue School question - Wiltshire Council are asking you to support a 'regeneration of the central car park' and a need for a 'travel plan' - could this put the vital safe walk along the Avenue under threat? - You have asked us
21st Oct - Major changes this summer to the plan by Wiltshire Council having effectively hijacked it - 'Yes' vote gives WC a free hand to asset strip by redeveloping large areas of the town centre that it owns making millions in capital receipts for the Trowbridge based council - these plans are under discussion with 'stakeholders' but the public has heard little about this - you ask us today
20th October - If there is a 'no vote' to the town's future promoted in the Neighbourhood Plan it will stop those that can use it to say it has the support of our community - daily update
19th October - Planning referendum for Warminster to be held on Thursday 10th November - What happens if there is a 'no vote' to the Neighbourhood Plan we have been asked - daily update
---
18th October - Contentious Grovelands flood risk area housing plan with 250 car parking places - Town Council ducks the wetland issue - Chair and vice-chair of the planning committee clash - Chairman Jolley says Yes - Vice-chairman Paul Macdonald says No - Councillors then just express concerns - result neither yes or no
---
16th October - Polling cards are on the way - over three years of meetings publicity and consultations - lack of awareness reigns - What is the Neighbourhood Plan? Are townsfolk finally taking notice?
---
15th October - Residents complaints about cars speeding - Community Speed Watch is one part of the answer - Surveys show that Warminster qualifies - Independent councillors discover that a lack of volunteers holds this back
---
14th October - 'Time to look at the cause of all the complaints about inconsiderate parking on the roads and streets around the town centre - not just deal with the effects' - say Independent town councillors
---
13th October - Wheeled out again the Police Neighbourhood Tasking Group puts cycling on pavements as the Warminster six-month priority for a crackdown
---
12th October - Town Council opposes a referendum being triggered if it tries to put its local tax levy (precept) up by more than two-per-cent - what do you think?
---
11th October - The 'care retirement community' Grovelands plan - town councillors who 'advise' county council decision makers meet next Monday at 7pm at the Civic Centre - Open to the public who can speak for three minutes each

---
10th October - Independent councillors and supporters to take a stand against Warminster again being the 'Cinderella town' of Wiltshire - The town is looking run down - 'We need more civic pride and we need Wiltshire Council to deliver' says Cllr. Paul Macdonald

---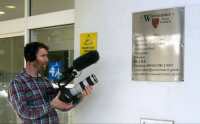 9th October - National issue twice successfully raised by Independent town councillors Steve Paul and Nick sees the town feature strongly in 'Fractured' - a documentary by Independent film-maker Angus Macfadyen on vimeo.com

---
8th October - The Neighbourhood Plan will have polling cards issued as in a general election and will have five polling stations the same as the last county council elections but not the same as the 'mega-loan' civic centre parish poll

7th October - REFERENDUM ON THURSDAY 10TH NOVEMBER - DID YOU VOTE IN THE LAST ONE? - THE 'MEGA-LOAN' PARISH POLL 'NO VOTE' WHICH WAS THEN IGNORED - MORE TOMORROW

6th October - Looks as if you will have to read important civic matters here first - Did you know the Referendum voters question is ... 'Do you want Wiltshire Council to use the neighbourhood plan for Warminster to help it decide planning applications in the neighbourhood area?' More tomorrow
---
5th October - The Town Council will hold a final 'wash-up' meeting Neighbourhood Plan Working Group - Friday - the plan goes to referendum - What next? says Independent Councillor Paul Macdonald

4th October - Council meeting hears Independent Cllr. Steve Dancey challenge them to think again - Neighbourhood Plan which goes to referendum vote next month - Vote against?

---
2nd October - Residents ask us today - The Copheap declaration of result by Wiltshire Council elected 'JEFFRIES Stephen Andrews - The Conservative Party Candidate' - 105 elected' Knight James - The Labour Party Candidate - 23 - MELLERSH Malcolm Independent 53 not elected.

---
Saturday 1st - Our Town Council committee meets on Monday night - Residents of Portway - The Close - Victoria Road and Masefield Road - Imber Road - Woodcock Road past Kingdown School - West Street and Newport residents concerns will be discussed - Plus changed 'Neighbourhood Plan'

---
30th September - Once in a while Steve, Nick, and Paul highlight a national or international issue as we get a 'buzz' from the wider picture - Two in the papers as 'tree-huggers' = Will you support Greenpeace on this - https://secure.greenpeace.org.uk/save-bees-2016-email-static
---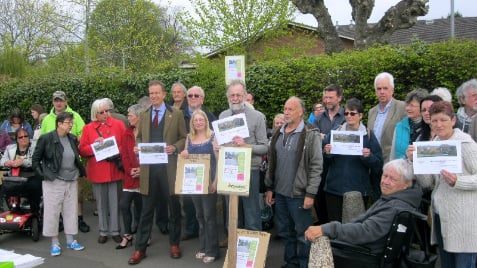 Neighbourhood Plan - 29th September - Should the town council take a fresh look at what they have agreed? Question? Warminster or County Plan vote now on? A resident used - 'You Say - We say' to give a public response
---
28th September - The public unaware about what is proposed for their town - Councillors on Monday at the Civic Centre 'Town Development' meeting being asked to decide publicity for it - Will you be there?
27th September - Neighbourhood Plan on 're-modelling' the town centre including the police houses, library and all land there but clarity lacking about the detail - Does 'The Avenue' public need to rally again?

26th September - A referendum on the 75 page Neighbourhoood Plan is set for Thursday 10th November. Read it at http://www.warminster-tc.gov.uk/council/neighbourhood-plan.php

---
25th September - The new way that Warminster is policed is explained - http://www.wiltshire.police.uk/information/community-policing-pilot
---
24th September - The long-running Neighbourhood Plan vote is soon - Will the police station and houses disappear? What about the main road past Avenue School idea? Who knows the vote is now on? Independent Cllr. Steve Dancey investigates
---
22nd September - Malcolm Mellersh - Copheap by-election - 'Independent surges into second place on the day' leaving Labour trailing well behind. Tory wins safe seat. Independents are now more encouraged to stand in every seat in the town next May.
---
19th September - Copheap by-election - Independent councillor Paul Macdonald puts his shift in supporting Malcolm Mellersh delivering leaflets. "I received a positive response when I explained why - keep party politics out of the town council - 'Independents Are Needed'."
---
16th September - Copheap by-election - Malcolm Mellersh advised Independent councillors for two years in their 'fracking' discussions - twice Independent councillors overcame party political opposition there - the town council sent a clear 'No' message - Fracking boss has quit the Warminster area
---
15th September - Copheap by-election - Minimal coverage of the by-election in the local paper of record - the election leaflet from Malcolm Mellersh will be delivered on Sunday by supporters on their day off
---
14th September - Copheap election - Electors in the Copheap will have a councillor who has just the skills to offer the town council as Wiltshire Council wants to say goodbye to so much of what its does

---
13th September - Copheap Election - 'All over Britain people free of poltical dogma have been standing up for their communities and seeking election' says Malcolm in his election leaflet
---
12th September - Copheap by-election - Why is there a by-election? Gopheap is the town's smallest ward and is the only ward to elect a single member. A second Conservative has stepped down. One of five elected in 2013 unopposed

---
11th September - Copheap by-election - Several Independent councillors on Warminster Town Council have welcomed Malcolm putting himself forward including cllr. Jamie Cullen volunteering to deliver leaflets

---
10th September - Copheap election - Twenty is plenty' is the answer' says Malcolm Mellersh to Copheap and Imber traffic problems

9th September - We will find out if the kind offer of a residential meet-up for Malcolm infringes election rules on Monday - Thanks to a tip from an anti-fracking supporter
8th September - A resident of the Copheap ward has kindly agreed to host a 'Meet Malcolm Meeting' before you decide how to vote.

7th September - Copheap by-election - Would you like to meet Malcolm before you decide how to vote? More tomorrow
6th September - Polling cards have been sent out. Those who are registered for postal votes will be able to vote from next week. We ask them to wait until they have received the party political leaflets. Then read the one on behalf of Malcolm Mellersh.

5th September - Copheap by-election - Would you like to vote for Dr. Mellersh as your Independent Councillor. Please check if you are registered. The last day to sign up is tomorrow 6th September. 'Warminster needs more Independent Councillors'
3rd September - The polling station for the Copheap by-election has been chosen. The Community Centre in Firbank Crescent off the Imber Road towards the Land Warfare Centre
27 August - Copheap by-election - Independent Malcolm Mellersh takes on the party political supported candidates on Thursday 22nd September for the Town Council by-election - more follows
---
17 August - VFW returns from summer holiday on Saturday 27 August

---
Warminster Town Council by-election date set for 22nd September for Copheap Ward is at the starting blocks - Nomination packs for would be Councillors now available

---
15 July - LibDems win Trowbridge Grove by-election for county hall seat leaving Tories trailing far behind
---
Warminster Copheap Tory Town Councillor Fryer hands in her resignation - What happens next will follow if ten electors request an election by 28 July - if not Tory majority on town council will co-opt

---
2 July - River Wylye is special say locals and ecologists and Member of Parliament and County Council - Who are HPH and HAB to disagree? Planning refusal appeal only in writing will decide the future of Spurt Mead water meadow buffer
---
28 June - Independent councillors accept advice from clerk and withdraw vote against agreements tying future councils to more mega-bucks hot topics read now

---
27 June - Warminster's 'Vote Leave' Bonus - how the hobbling of large developers could save our green fields helping local youngsters buy a home hot topics read now
---
26 June - Independent Town Councillors on Monday will need Tory Councillors support ... let a new council election next year decide on 'Service Level Agreements'

---
WILTSHIRE VOTES LEAVE 52% - 48% ... Nation Votes Leave 52% - 48% ... 72% Turnout
---
A Guardian reader reveals how the global elites are taking the world's money and power for themselves and why ordinary folk are backing Leave. CLICK HERE
---
So called 'Shy Tories' didn't want a press release about the radio station money .... so we Independents sent one out! HERE
Strong views expressed on You say - We Say
---
Monday 13 June - TORY town Councillors give WC Radio £50,000 over next five years - and opt to axe threatened ash tree despite calls by environmentalist. Will town tree-huggers re-appear?

---
Brexit the Movie reviewed following its showing in Warminster. Click HERE
---
MISERABLE SPURT MEAD PLAN BACK ON THE TABLE - APPEAL HAS BEEN LODGED Click Here
---
BREXIT THE MOVIE will be screened at The Athenaeum at 7.30pm on Friday evening (10 June) - We understand seats are still available - just get there a little early (FREE!!!!!)
---
WCR Community Radio is asking town councillors for £50,000 over the next five years. More HERE
---
Should Civic Centre ash trees Leave or Remain? CLICK HERE
---
2 June Michael Eavis confirms Longleat is in the frame for huge pop festival in 2019. But do WE want it? Let us know! CLICK HERE
---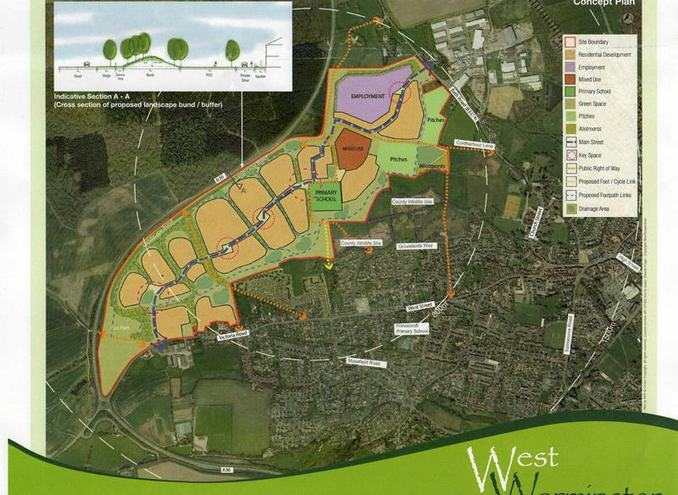 West Warminster Urban Expansion will have 1,403 homes not 900 - but what about education? CLICK HERE
---
28 May - EU referendum expected declaration times revealed to press. CLICK HERE
---
Labour's EU position will spell its demise - 'The Strange Death of Labour England 2016 - 2025' CLICK HERE
---
6 April - Spurt Mead application rejected Seven votes to Four by Wiltshire Council's western area planning committee - hot topic

4 April - Spurt Mead: Double standards bars councillor from outlining corporate policy at vital county planning meeting HERE
---
24 March- Wiltshire Council saves pennies off its council tax bill denying the public access to spend a penny at public toilets - 'Go behind a tree for a pee?' hot topic
---
23 March - Ten Grand a Year High Street Eyesore Costs Revealed - Hot Topic
---
21 March - Warminster's High Street scaffolding eyesore sold at auction this afternoon for £150,000. Buyer unknown. Future unknown.

---
18 March - Developers' master plan could cause damage to local education provision long term. CLICK HERE
---
14 March - Fourteen Points later - Town Council does not support developers' 'masterplan' for Warminster - Hot topic
---
6 March - See and hear our leaders misleading the public about the EU over the past decades CLICK HERE
---
2 March - Longest Running Most Intrusive Eyesore In Town Up For Sale - more later
---
1 March - Queensway Play Area Latest Improvements Boost - Hot topic

---
29 Feb - Councillor speaks despite procedural block about the Hopper bus - hot topic

---
26 Feb - Daniel Hannan launched Wiltshire's Leave Campaign in Warminster CLICK HERE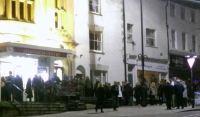 Pictured: Queues at the Athenaeum last night - Wiltshire launch of the Vote Leave EU campaign - Is Warminster backing Brexit? EU VOTE - 'WHY I'M BACKING BREXIT' Click HERE
---
23 Feb - Baroness tells planners to keep town councils better informed of major changes CLICK HERE
---
23 Feb - Twice now 'fracking' has been on the agenda at Warminster Town Council - Wiltshire Unitary Councillors greeted on the steps of county hall forced to do something today by public pressure
---
22 Feb - Warminster MP Andrew Murrison has Twittered that he will be campaigning for UK to LEAVE EU...'I'll be campaigning to leave the EU...'I unequivocally blame the EU and its inflexibity for where we are now'

---
22 Feb - Town Councillors stepping up to the mark to stand up for local people and businesses next Monday - more later
---

EU Vote - 21 Feb - In Warminster the EU vote is now under way - Hot Snippets

---
21 Feb - Joined Up Thinking Needed Says Town Councillor as Neighbourhood Plan Comments Deadline extended - Hot Topics Now

---
18 Feb - Andrew Murrison MP agrees that town councillor urgent Hopper bus 'beggars belief' plea 'cuts the mustard' - Click Hot Topics Above

In Hot Snippets fracking appears on the Wiltshire Council agenda next Tuesday
---
17 Feb - What could dramatically change life in Warminster revealed tomorrow - 'Masterplan' Hot Topic Now
---
16 Feb - Grovelands and Swaledale estates will not get their twice promised local convenience store - CLICK HERE

---
15 Feb - Wiltshire Council, 'Where Everybody Mutters' - THEY REALLY DO! CLICK HERE
-----------------------------------------------------------------------------------------------------------------------------------------------------------------------------------------------------------------
14 Feb - Wheels which started turning during the reign of Queen Victoria now halted by the internet - Hot Topic
---
13 Feb -The Victoria Road Filling Station - Derelict - New planning application - An eyesore civic pride issue Hot topic delayed by Wiltshire Council Website 'runtime error'

---
12 Feb - Two Houses on a bank of the River Wylye turned down by planners - Does it bode well for Spurt Mead? Hot Topic

11 Feb - Re-name Wiltshire County Hall the home of 'Wiltingshire Council' says dismayed town councillor - Hot Topic
---
10 Feb - Wiltshire Council backs Bath Road gypsy site application by 5 votes to 4 as officers admit 'different policy' applies. CLICK HERE

---
---
7 Feb - Hopper Bus 'Axe' is short-sighted former town mayor tells councillors - Hot Topic
Long serving Warminster County, District and Town Councillor (Ret'd) John Syme reacts in our 'You Say - We Say'
---
'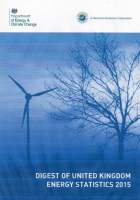 6 Feb - Warminster Councillor Puts 'Dukes' Up to MPs About Fracking - Hot Topic
---
5 Feb - Journal Reports Local Residents Joined a Fracking National Day of Action Event at the White Horse - Hot topic
---
4 Feb - Campaign to save the RUH Connect 2 Service goes ahead on two fronts - Click Hot Topics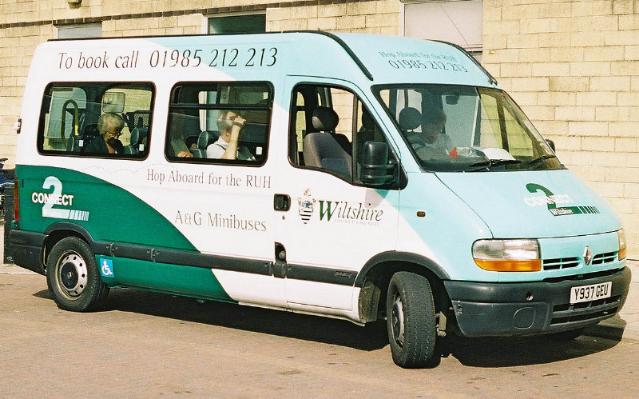 3 Feb - 'Hopper Bus' Baroness Scott Reply First Look by Paul ... 'No hope there' ... Second Look ... 'Way Forward' - see previous hot topics
---
2 Feb - Severed head found in county council grit bin near primary school. CLICK HERE
---
2 February - Officer recommends permission with 18 conditions after .... 1 February - Romani Gypsy Plan for Bath Road Decision Day Announced - Nine Day Countdown Begins - Hot Topic

---
28 Jan - Independent freelance producer needs more balance for his 'a sense of your journey' about fracking locally - Hot Topic
---
26 Jan - Local Anti-Fracking Community Group has 'Squeezed in' an extra meeting tomorrow night at The Rose and Crown - Hot Topic

---
25 Jan - Unanimous town council planning stand against another chapter in 'Tales from the Riverbank' - Hot Topic

---
23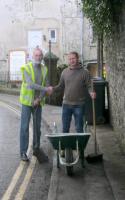 January - The Close Call: Warminster businessman cleans up after yet another failure by Wiltshire Council to deliver a service. Job Done (Pic Left) CLICK HERE

---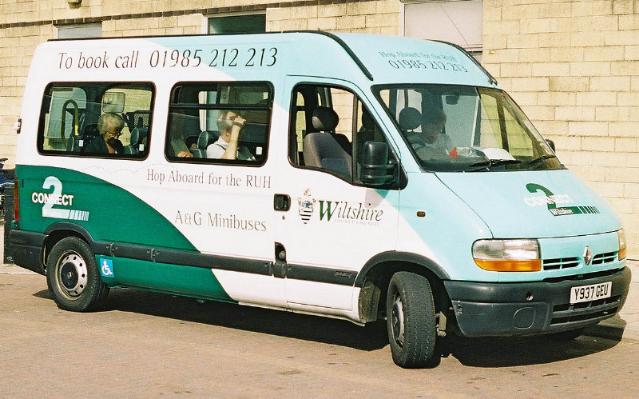 22 Jan - Under Threat RUH Hopper Bus new option proposed to Baroness Scott Leader of Wiltshire Council - Hot Topic
---
21 Jan - Councillor Keeping his 'Eye on the Ball' spots Town Hall is on the market again - hot topic

---
20 Jan - 'Streamlining' or 'Stream Lining' latest Wiltshire Council cabinet 'rubbish' decision - Hot topic

---
19 Jan - BBC Apology to Warminster as the Town Park kiosk Stirs Up Another 'Storm in a Teacup' Hot topic
---
18 Jan - Those town councillors able to vote unanimously back 'Fracking' motion to ask Wiltshire Council to act - Hot topic

---
17 Jan - Fiver to save the town from county cuts - Hot Topic
---
16 Jan - WC Consults ... Hopper Bus Axed saving £150k Yes? ... Village and Town Bus services threat Yes ... Councillors £2m allowances No way

BBC reports on the 'nuclear option' bus service consultation https://www.facebook.com/BBCWiltshire/videos/529747127194749/?fref=nf
---
15 Ja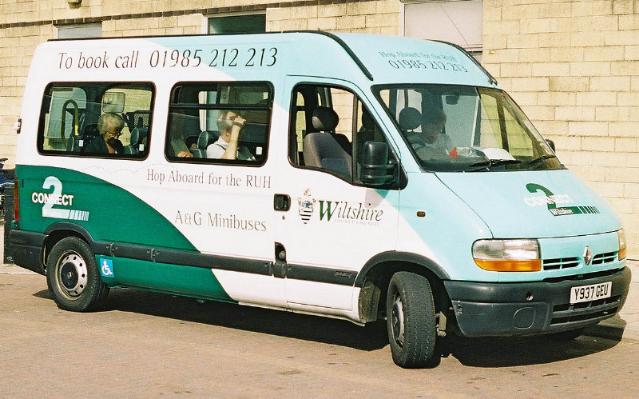 n - Hopper axed reports appear - but decision still yet to be made behind closed doors Tuesday? - Fight On Call - Hot topic

---
13 Jan - Wiltshire RUH Hopper Bus Fails To Appear - Hot Topic
---
12 January - 'Beeching Style' cuts threat to local buses - Hot Topic

---
11 January - Iconic Tea Hut Demolition Completed Today Shames Council

10 January - Councillor launches eleventh hour attempt to save an iconic part of the town park - Hot Topic
---
9 January - Fire Service safety campaign being undermined in Warminster by 'partners' Wiltshire Council. CLICK HERE
---
8 January - How Robust is the Warminster Flood Strategy Question - Latest Hot Topic HERE

PETITION - to sign the national anti-fracking petition click HERE 39,000 people have signed so far but 100,000 are needed to make MPs debate.
---
7 January - New chief fire officer speaks in Warminster CLICK HERE
7 January - Fracking Issue Back on Council Agenda - hot topic HERE
---
6th December - National on-line Fracking petition supported by Warminster Town Councillor - see latest hot topic

---
30 Dec - Make Fracking Decisions Very Public Demand To County Councillors - hot topic now
---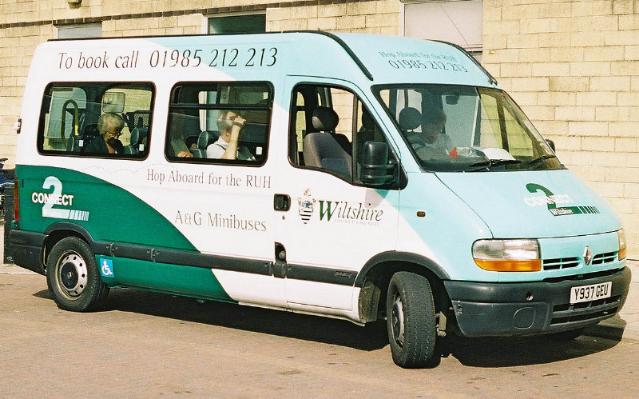 And ... NHS not on board Hopper Bus campaign for the want of £75,000 'cul-de-sac' ... latest hot topic
---
22 Dec - Warminster councillors object to Spurt Mead planning application for 35 dwellings for Yuppies on the banks of the River Wylye (currently home to the endangered water vole) CLICK HERE

---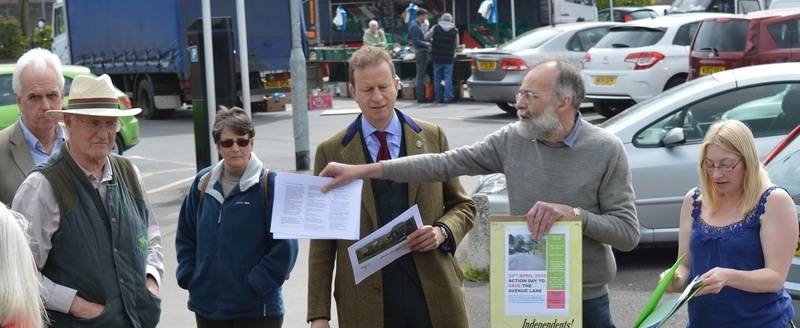 Council drops controversial Avenue through road idea for cars trucks and HGVs thanks to local Tracy Scott (right) supported by the townsfolk and then CllrFryer (left) - Town Council Neighbourhood Plan progresses

---
Warminster Town Council faces the challenge of becoming an Urban District Council as Wiltshire Council loses interest in an increasing number of its roles

---
Leading County councillor tells Warminster man whose home was broken into during hours of darkness that 'burglars don't like the dark! Click HERE
---
High Court Judge overturns Spurt Mead planning permission following judicial review into Wiltshire Council decision CLICK HERE

---
Tuesday 6th - Westbury needs a new town clerk - up to £41k a year CLICK HERE
---
Town Council backs anti-fracking motion despite some Tory opposition CLICK HERE
---
Town Councillors Steve Dancey and Paul Macdonald have moved the following motion to be considered by the town council on Monday 21 September.
'Warminster town council would like to put on record its view that 'fracking' in areas like Warminster, where the drinking water supply is wholly dependent on ground water fed by aquifers deep under ground, is unwelcome, too risky and inappropriate.'
---
3 August - SPURT MEAD'S original developer fails to shine in Daily Telegraph spotlight CLICK HERE
16 July - Fieldwork reveals hundreds of people unaware of recycling centre closures. CLICK HERE
15 July - VFW councillors to carry out 'fieldwork' at town recycling centre to assess impact of weekly two day closure. First assessment will be from 12 - 1pm tomorrow (16 July)
15 July - Town council advises rejection of Redrow proposal for more than 200 homes west of St Andrews Road.
8 July - Prime minister David Cameron says Warminster should have free parking Click HERE
30 June -Huge jump in the number of Warminster based police officers Click HERE
30 June -Tory councillors take steps to bring back their town council newsheet 'Engage' Click HERE
16 June Byelaw banning cycling in the park will stay, town council decides.
8 June - Christmas lights secured for three years - but volunteers still needed CLICK HERE
3 June - Center Parcs sold to Canadians for £2.4bn CLICK HERE
2 Ju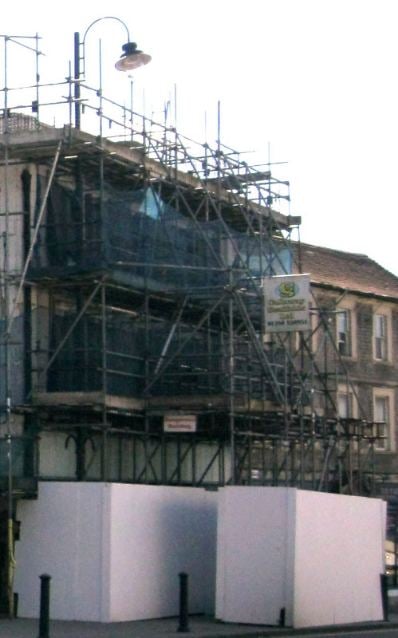 ne - Warminster RUH Hopper Service 'wooden' response verdict ... hot topic later
1 June High Street scaffolding: Wiltshire Council responds to online petition CLICK HERE
---
31 May - Failing Wiltshire Council cannot even empty small and play area bins

Action needed to restore civic pride says 'litter-picking' town councillor. CLICK HERE
---
Friday 29 May - Art Trail final big weekend starts tomorrow - a lot of it is on the official Wiltshire cycle route - next big weekend is the Warminster Wobble 13-14 June CLICK HERE
27 Ma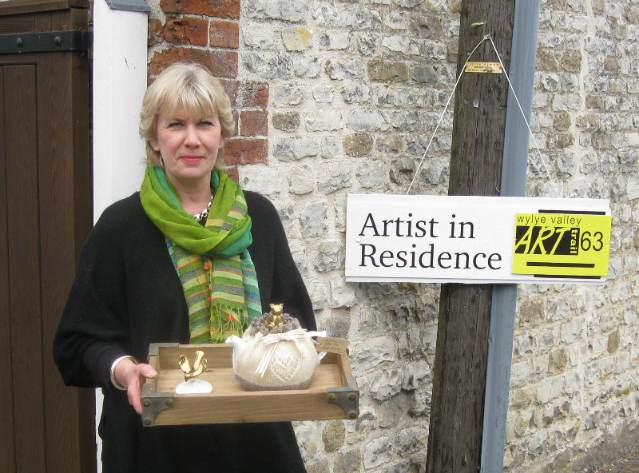 y - Big draw to local 'Hidden Talent' at the Wylye Valley Art Trail 2015 - The 75 venues and over 300 artists 'showcase' their skills once again - Free Trail Brochure - click on hot topics now
26 May - Interesting town centre 'decline' and 'fade away' comments this week - A real challenge to county and town councillors ... click on You say - We say
25 May - Last call for cuckoo at Home Farm? CLICK HERE Oops Danny puts me right!!!!
24 May - Who is the first councillor to be described as 'scurrilous' in the minutes of a town council meeting by a co-opted member? Independent Councillor Paul Macdonald. Which Councillor Next?

'Mr Tony Nicklin, Chair of the Neighbourhood Plan Working Group felt that Councillor Macdonald was behaving in a scurrilous manner and was deliberately going against Council procedure.' 11 May hot topic now confirmed on the official town council website

---
23 May - Local Independents community politics gets national airing in The Guardian ....

http://www.theguardian.com/politics/2015/may/22/flatpack-democracy-peoples-republic-of-frome
22 May - Fast track forward the Finance meeting of Warminster town council ... Town development can wait ... Reasons why will be asked of the committee chairmen ... more follows

21 May - Carry on Curryhouse as planning advisory committee accepts a takeaway at the town's busiest bus stop. (You can't make it up!) CLICK HERE (Now includes public comment added 23 May).
16 May - Major plug in Daily Telegraph for Warminster firm Dents - CLICK HERE
15 May - In Hot Snippets .... Carry on Camping sequel - Will it be welcomed?

14 May - Tomorrow is the additional last day to fill out and submit response forms to the planning agenda being set for Warminster by neighbourhood planners ... in hot snippets now - Business and Employment Boost For Town
13 May In hot snippets - 'Loss of control' blackspot remedy starts soon ... In hot topics now .... Are Wiltshire Council wearing a blindfold when it comes to the scaffold? ....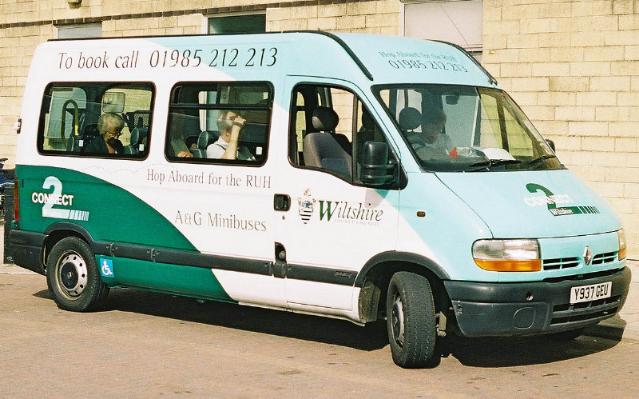 12 May - RUH Hopper bus campaign wheels are turning faster hot topic now
Independent Councillor says share one churchman's view of the general election CLICK HERE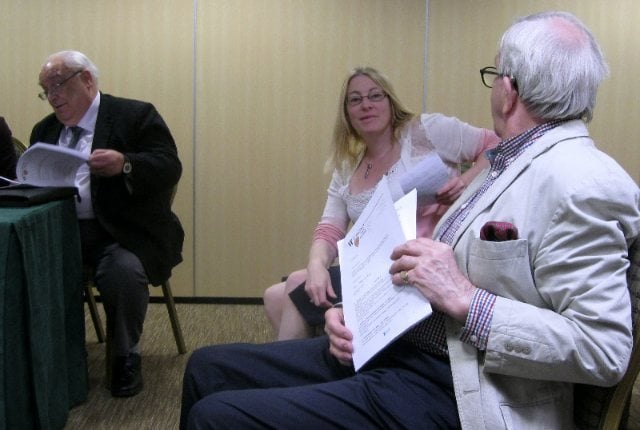 11 May - Resident denied - New Mayor fails first test after Nicklin comments at town council meeting. CLICK HERE
---
13 May Update .... Gypsy plan withdrawn at the eleventh hour .... 10 May - Lack of adopted county plan for Gypsies setback to Bath Road campaign - hot topic now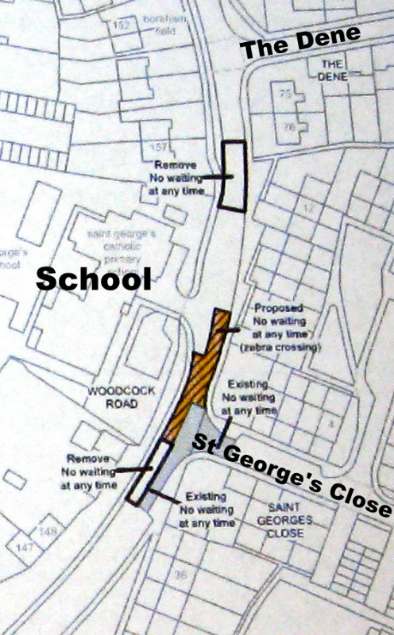 Town Council rookies to get top jobs. Monday agenda surprises in store for the public.

9 MAY - Road safety proposals, including zebra crossing, near St George's School in Warminster CLICK HERE
8 May GENERAL ELECTION RESULT ANDREW MURRISON wins S W Wilts with a vote of 27,198, UKIP's Matthew Brown with 9,030, Labour's George Aylett 6,948, LDem Trevor Carbin with 5,484 and Green Phil Randle 2,985.
---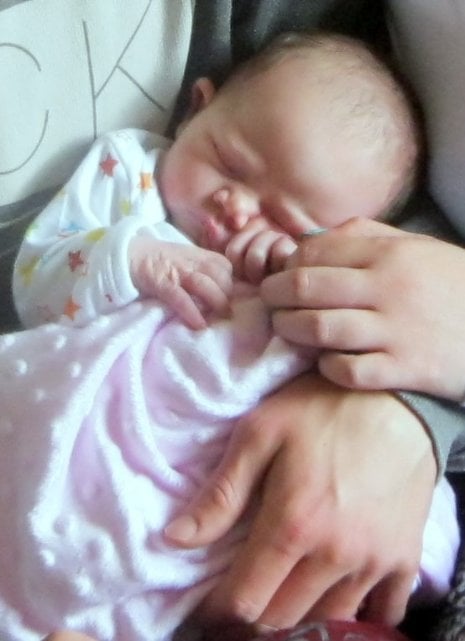 6 May - Historic Warminster pub re-opens CLICK HERE
5 May - Warminster's very own 'Royal baby' news hot snippet now
Councillor 'points the finger' at those that can answer the questions about the future of the 'Princess Royal' building in hot topics about Warminster
In other hot snippets later ... Davis and Ridout top town councillor attendance record ...

2 May If you missed the hustings today Monday 4 May sees WCR air it again at 11am and 5pm.

1 May - Shock Latest - '29 April exclusive hot topic' - the Bath Road Gypsy plans debate. Cllr. Andrew Davis to chair 'recommendation for approval' 13 May meeting at county hall. Cllr Pip Ridout 'update'. Hot snippet

30 April - Radical proposals for council meetings. Independent Councillors new 'thirty minutes forum idea' hot topics now
---
29 April - The countdown to the Warminster 'gypsy plan question' has begun hot topic
28 April - 'Two Fingers' v 'Thumbs-up' RUH Hopper bus service rallying call to town councillors hot topic
And more - 'Be gentle to our staff' councillor response to town council neighbourhood plan press release ... a click on hot topics and snippets now ... 'Hire it not buy it' plea ... .... this week also reveals .... 01 May ... Gypsy residents or not ... 02 May WCR election review ... 03 May ... River Wylye TV personality housing plans The Avenue 'Protest' latest
A click on 'You Say - We Say' neighbourhood plan comments 'get it right by positively adding to it' reply as this website exceeds 25,000 UK visitors
26 April -'Walk the Walk' with us challenge to all members of the councils and the 'loquangos' behind The Avenue new road plan hot topic
25 April - After nearly four decades of voting Conservative, Simon Burn of Warminster Web, explains why he won't be supporting the Tories on 7 May. CLICK HERE
A click on hot snippets reveals now ... Thank you said with flowers ... Newcst ommunity campaigner 'confident' reply ... Six grand too grand camera question ... Woodmead what next question answered ...
---
25 April - A big question needs to be asked. If two elected town councillors, Cullen and Fryer, neighbourhood plan group members, now support local resident Tracy Scott to oppose a key part of its work why was it in the plan in the first place? WE will ask them.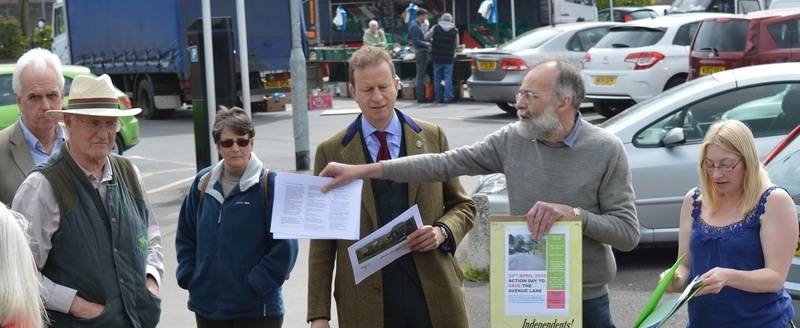 24 April - HIGH NOON in The Avenue as UKIP man backs anti-road campaign. CLICK HERE
'Better than I could possibly have expected turnout' says novice campaigner Tracy Scott. 'Is this the avenue to getting the whole neighbourhood plan right' says veteran campiagner Paul Macdonald

22 April - 'A little bit sneaky' says the newest community campaigner hot topic exclusive now

21 April - Mayor Andrew Davis makes public apology at meeting CLICK HERE

Town councillors and former councillors are interested in being there ... The Avenue 'new road' protest action day. Friday at 12 noon.

A click on hot snippets ... Three Horseshoes three hours update ... new vfw community leaflet on-line ...Controversial plan on show at Avenue School ... on the way The would-be MP hustings vfw questions

---
19 April - In hot snippets ..... How much free car parking will Warminster town centre have in 2016? Residential streets only.

18 April - Two years work on the draft Neighbourhood Plan ... at almost the same time the Scob ... and six years of the Core Strategy ... unpaid town councillors and others workload ... hot topics to follow this week
---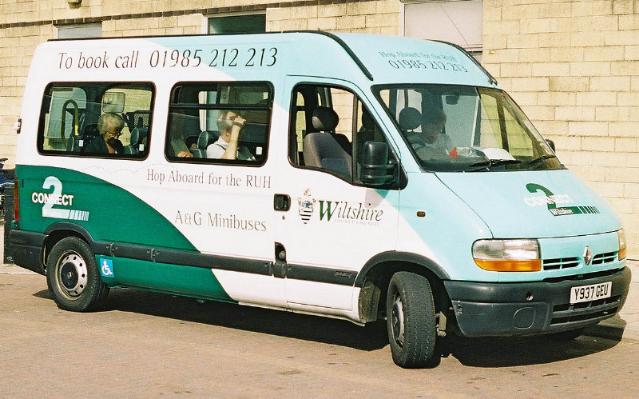 2,000 strong Wiltshire Council Hopper Bus petition latest updates from Independent councillors hot topic
A click on hot snippets reveals latest ...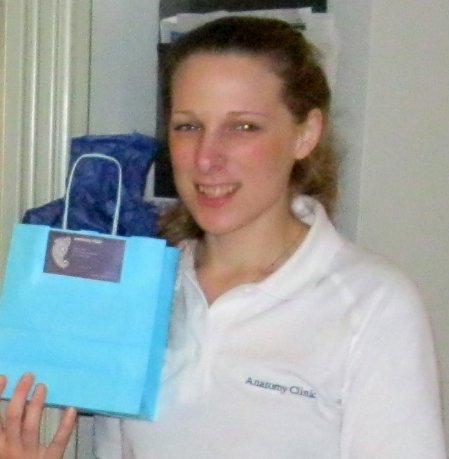 New Young Regency Face left ... Quality monthly news ... Thumbs-down to Romany plan ... Councillors public 'question time'

---
16 A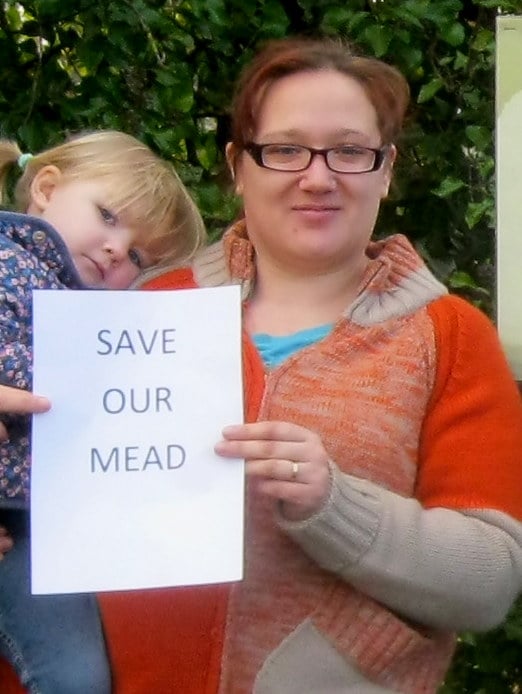 pril - Ten pledges specific to Warminster being drawn up for would-be MPs. The future of the cottage hospitals is first. A River Wylye controversial planning 'Happiness and Beauty' decision. After today's 'cycling 'surgery' Cllr. Paul Macdonald adds reviving government support for shops and pubs in the town and 'where will the jobs be provided for Warminster'.

---
14 April - Consultation count down. Working group announce the details of a new chance to take a look. Princecroft School on Friday 24th April at 2pm. Update - 16 April - 'Disappointment' being expressed Click on Neighbourhood plan revealed.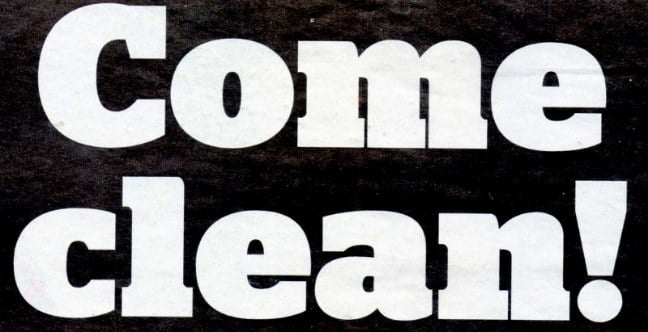 13 April - 1200 houses latest. Wiltshire Council seek the views of residents. Town sets up a 'working group'. Town councillors Macdonald and Cullen successfully insist that it includes the whole town to make sure developers come clean about the overall impact. Click on hot topics.
... and this is a huge story locally so where are the local journalists question? WCR' was there at the press table
---
12 April The most important meeting of the year for the Town Council. Residents who freely want to question their town councillors on any matter that relates to their town can do so. First the Mayor and then councillors have to reply unlike the frustration of regular council meetings. It is the annual parish meeting on Monday 20th April.
Also Latest Hot Topic Now
---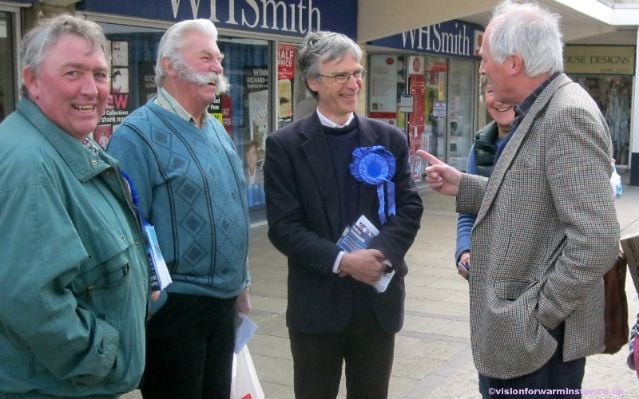 11 April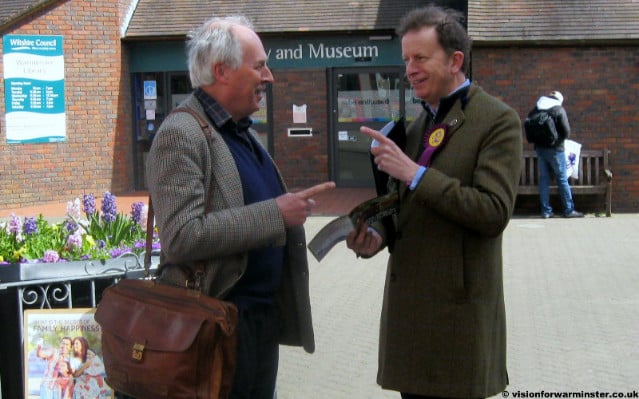 - First Saturday of the general election proper and two candidates almost stand 'toe to toe' in the town centre. 'Warminster could become the key political battleground' says a seasoned political campaigner. Matthew Brown (left) and Andrew Murrison (right) were in the Three Horseshoes Walk

A click on hot snippets reveals ... ''George Formby would have been pleased' ... 'Fence-Warming party ... Flood Resilience Cash ... ' later away from the parish pump ... vfw will feature more than civic updates
---
Town councillors to put their heads together at a professionally run workshop. The government still class them as members of a parish council. Can they take over 'austerity led' Wiltshire Council work. 'More than a parish council? I remember the days of the Urban District Councils' hot topic NOW
A click on hot snippets reveals ... MP opposed gypsy plan .... 'Glaring mistakes' ... Councillors clock-watching ... Green bins redundancy
---
9 April - Nominations close at 4pm for the general election. Latest - It is a five horse race with only one also-ran back at the gates - ten pledges they could make for our town in ten days time - Will they agree?
---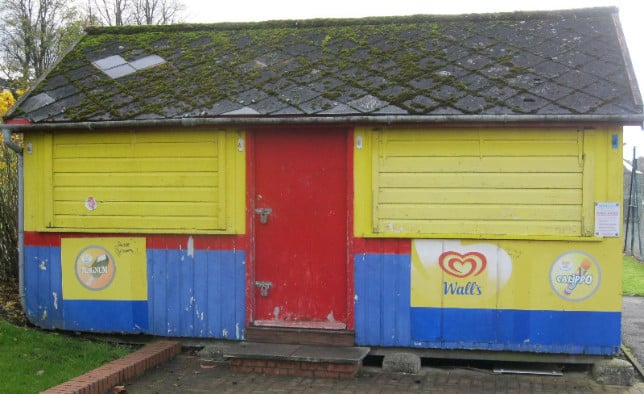 'Town Park asset transfer' under coalition government Localism Act powers. Wiltshire and Warminster Town Council dealings. 'We want to save this' say Independent Councillors. Do you agree?
Easter HOT SNIPPETS shortly reveals ... Thank you ... Save the Tea Hut ... 'Extremely concerned' letter about car parks asset transfer ... More late localism for Plan
---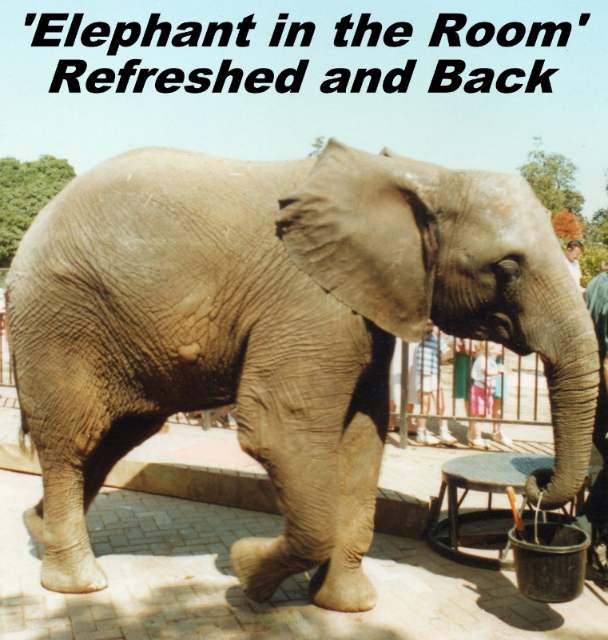 Will the real 'Master Plan' please step forward?
1200 not 900 homes 'outcry' takes centre stage as another 'exclusive' working group looms large. Town planning meeting on Monday.
A click on HOT SNIPPETS reveals ... Don't lose your 'Vote 2015' ... Car parks discussion 'clamped' ... 'AAAAA' The latest acronym ... Local 'hustings' meeting ... Hopper Bus Petition .. and more previously but still current
---
You are asking 'Why does it have to be the Shadow Community Operations Board?'
An independent hot topic will follow after more of you have taken a look. The 'Scob' reported to the unitary authority 'Area Board' since its formation. Can you let us know what sense you make of their work? And the Neighbourhood Plan consultation.
The Wiltshire Council SCOB driving forward the future of Warminster? We will show their work to you online. Does our town have a real choice? Wake up is the call!
---
Hot snippets updated ... RUH Hopper petition ... Inspector goes police cadets next ... Town council to tackle dog fouling ... New welcome to visitors to Warminster ... And Mayoral outburst against Cllr. Paul Maccdonald
---
23 March - Town future - Who pays for it? Exclusive hot topic
---
HERE It is in black and white. No council 'pot of money for Warminster campus'. Developers' cash from a town centre 'regeneration project' is the way forward for a 'Shadow' group.
---
20 March - DUAL- PRONGED threat to town's hospital? HERE
---
Can the last officer to leave Warminster police station please extinguish the blue light CLICK HERE
---
Neighbourhood Plan process criticised - in 'You Say - We Say' - Another idea fails out of favour with a town councillor - 'Sacrilege' says Nick Dombkowski (Ind) in Neighbourhood plan revealed above
---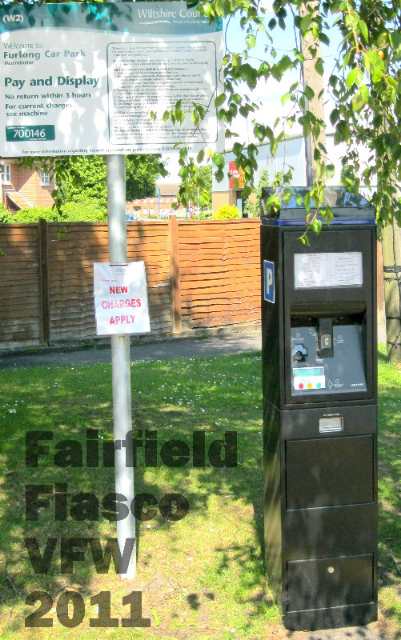 Free parking continues to disappear into the annals of history as Wiltshire Council looks to off-load its problem un-profitable car parks including the ludicrous meter at Fairfield Road.
'Paltry pennies off for the first hour in one car park so far and no further progress.' says outspoken Independent Cllr. Paul Macdonald. 'Usual report from consultation leading us to the answers they wanted but is there a sting in the tail?'

---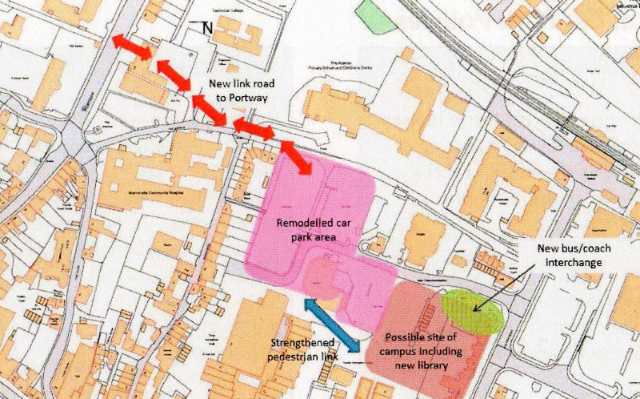 17 March - Now in public sight. Council approves the next steps without any debate of its contents including this new road. Click on 'Neighbourhood Plan Revealed' above for the first ... or visit council offices to see it at the consultation launch at 4pm on Thursday
---
9 March - Read the VFW letter The Warminster Journal refused to print. It concerns the neighbourhood plan. CLICK HERE
9 March - VFW letter in Wiltshire Times highlighted double standards from Wiltshire Council's section 215 order policy. CLICK HERE
---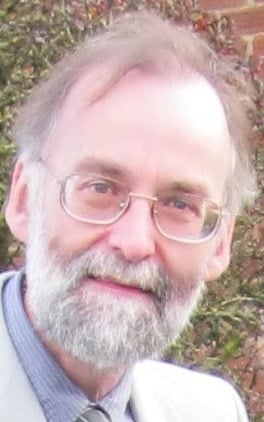 NEIGHBOURHOOD plan kept under wraps until very last minute. Too embarrassing? .... CLICK HERE
---
3 March AMATEUR planners' threat to demolish library and tranquility of The Avenue ... ... and if that was not enough .... broke and impotent Wilts Council 'High Street Scaffold' eyesore ... leaflet ready
LEGAL Action looms large over Spurt Mead. Click HERE
---
GENERAL ELECTION coming to Warminster. Churches Together will stage a public election meeting at Christchurch on Weds 8 April. The hustings will be chaired by the suffragan Bishop of Ramsbury Rt Rev Ed Condry.
---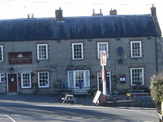 4 Feb - The owners of Warminster's Fox and Hounds have bought the Bell and Crown and plans to re-open the pub in a couple of months. More soon
4 Feb - Wiltshire Council gives go-ahead for Gipsy Lane 'social' housing scheme.
9 Jan - Neighbourhood plan claptrap emerges on the front page of the Warminster Journal - we mentioned their barmy road scheme in November CLICK HERE
25 Jan - Steve presses MP to help town's poorest 10 per cent. CLICK HERE
23 Jan - Spurt Mead applicants gain outline planning permission from Wiltshire Council. Shame on the 'Spurt Mead FIVE' CLICK HERE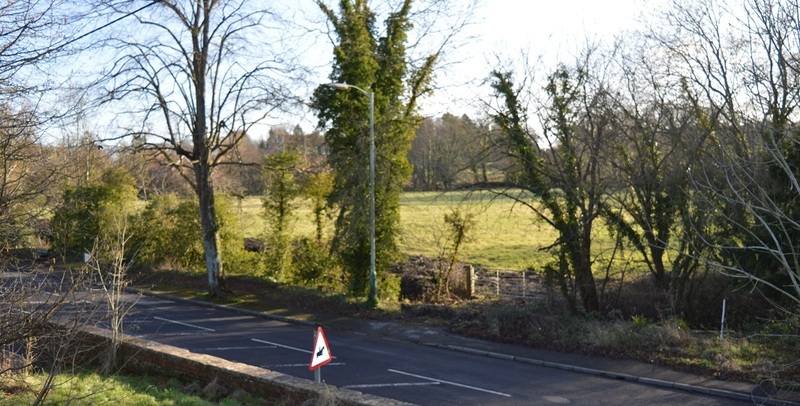 18 Jan - Warminster Town Council voted 'in principle' to take on ownership of the park.
5 Jan 2015 - GIPSY LANE DEVELOPMENT recommended for approval by county's myopic planning department CLICK HERE
9 Dec - Warminster's DSG sold to Babcock for £140m short term gain but long term pain. CLICK HERE
11 December. Town resident Michael Heaton has launched an online petition asking for action to be taken on the High Street Scaffolding. To sign CLICK HERE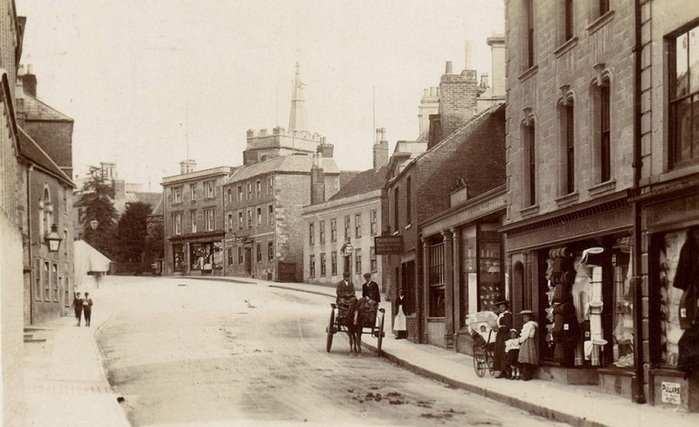 Pictured above - Warminster's town hall hill in Edwardian times. All buildings in good repair!
10 December. Market Place upgrade 5 years on - road too dangerous so cyclists use the pavement. CLICK HERE
8 December. Town councillors oppose homes plan off Grovelands Way. CLICK HERE
SHOPPING Mall owners may want to close part of town centre at night CLICK HERE
WEDS 26 Nov .. Wiltshire Council can't or won't do anything about the scaffolding in the High Street. CLICK HERE
. DSG to be sold off to Babcock in crazy short-termist move that will prove costly in the long term and may threaten soldiers' safety. CLICK HERE
Much more this Wednesday .... Near £1 million request from a Warminster 'Trust' hot topic.
.... And on what appeared to be a very quiet interlude during the proceedings at the Warminster Town Council meeting the draft budget 'increase of 1.3 per cent' introduced by the town clerk at the behest of the Mayor Cllr. Andrew Davis heard almost nothing from town councillors.
And another Insight about the Monday night 'town council shambles' .... Councillors turn their backs on their electorate .... Cllr Steve Dancey ignores criticism to make a point (See hot topics)
TONIGHT Monday 17 Unreasonable Conservative led councillors unite as a group to exclude your independents from a meeting in which they have a material interest as ward councillors. CLICK HERE
Waking up on Tuesday to what happened on Monday 17th

'Blocked Gullies Debate' blocked by cabinet member 'Yes Minister Style' with a little used procedural move after having delivered his crafted reply 'rubbishing' several times Cllr. Paul 'Batchelor' meaning to say 'Macdonald' .... other 'sympathetic' councillors denied the right to speak .... more about this .... and more revealing insights will follow
TREVOR Carbin selected as Lib-Dem candidate for 2015 election in S W Wilts (See hot topics)
---
Sunday's Post .... IS there a back-door attempt to change the recent council decision taken on settlement boundaries?
Conservative town councillor Rob Fryer has requested that the town council meeting on Monday reviews the position of the neighbourhood plan working group (NPWG) in the light of that decision. Some draft NPWG papers released as part of the council agenda are only sent to councillors accompanied by the instruction they are not for copying! Whatever next? We do know the rules. Read more HERE
Sunday 16th November ... At a full town council meeting tomorrow should councillors show 'good-neighbourliness' to the tiny parish of Bishopstrow .... who should be in the 'pecking order' for a new fund of cash .... the 'vote of no confidence in Wiltshire Council' resolution .... as the councillors also deal with a complaint against a 'dual-hatted' councillor .... and look at their budget for next year .... and if that was not enough irrespnsible dog owners and the WW1 'Gold Project' .... the future for youth services in the town .... and taking the town park off of the hands of the Wiltshire Council .... 'We invite you to have your three minutes say' say Independent Councillors Nick Dombkowski, Paul Macdonald and Steve Dancey.
Tuesday 11th Wiltshire Council parking review will do nothing to restore Warminster town centre's vitality and viability or solve residents' parking problems, says cllr Steve Dancey Click HERE
CO-OP plans to transform Victoria Road eyesore with new shops. ClICK HERE
Monday 10th Selwood again 'respectfully' asked to go back to the drawing board over plans to build at Fairview against unanimous local opinion .... Bungalows are the answer say Councillors Macdonald, Dancey and Dombkowski .... Galvanised hot topic
Sunday 9th Claims that a 'Warminster Disaster' faces the River Wylye are growing. 'Where is the Environment Agency when it is most needed' appeal letter being prepared by 'tree-hugging' campaigners
---
Last week .... Friday 7th A very high flooding risk which could easily be alleviated by gully emptying still suffering from lack of action. A Warminster town councillor has lodged a motion of 'no confidence' about Wiltshire Council. See Hot topics
Thursday 6th Cllr Nick Dombkowski wants a new set of safer bins for children's play areas ... more follows on Saturday 22nd November after he reports his findings
Wednesday 5th Exclusive Planning application for the empty car dealership site at Victoria Road has been submitted by Co-op. Scheme includes retail and dwelling units. Steve Dancey reveals more on Tuesday
MORE Breaking News- Warminster's East Street Esso Garage ( sometimes known as Wall's Garage) to be closed for three months for refit.
And More .... Comment about councillor expenses in 'You Say - We say'
---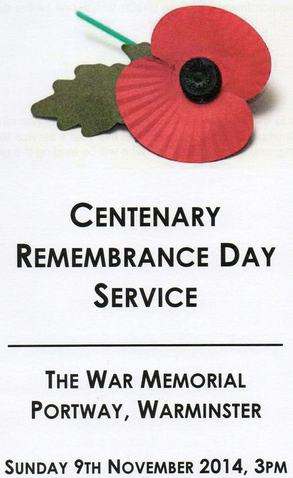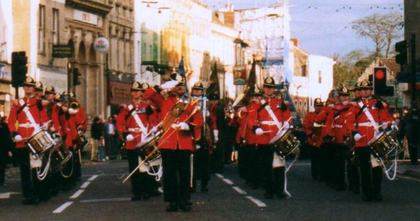 Sunday 2nd November .... The Warminster 'Centenary Remembrance Day Service' at the War Memorial in the Portway next Sunday will not be supported by the military with a marching band at 3pm. Salisbury Royal British Legion steps in. Is it time to hold our service at 11am in future? Hot topic (and hot topic below)
---
Friday October 31st .... Wiltshire Councillor allowance latest update ... Cllr. Christopher Newbury remunerated £25,166.36, Dual-hatted (town and unitary) councillors Andrew Davis rewarded with £19,246.13 and hard working ward member Cllr. Pip Ridout gets £16,900.69p.
---
KIPPERS come home to roost! UKIP unveils candidate to face Andrew Murrison in May 2015's General Election. Click

HERE
---
We will leave these images to reflect the marvellous effort that is made by Warminster during the Carnival season. Please look below as well.
WARMINSTER CARNIVAL 2014
---
28th October .... Information published on the Wiltshire Council website shows that Cllr. Fleur-de-Rhe Philipe allowances 'Grand Total' was £30,565.32p and Cllr. Keith Humphries were £33,201.57p for 2013-14
27th October .... Two area board councillors now bank in excess of £30,000 each year .... 23rd October .... Whopping £50,000 increase in our local unitary (all Tory) councillor income finally revealed for 2013-14.
visionforwarminster.co.uk first headlined the issue in Councillor Allowances 2011 (menu left).
19 October

Steve ends his long career in journalism with a party

Click

HERE
---
17 & 18 Oct ... 1914 - 2014 shock news. Army band to lead the Remembrance Day parade will be missing ... 'Oh what !!' says one 20-year-old who has marched as a 'beaver, cub and scout' behind the band .... Local councillor is talking to locals .... hot topic HERE
---
Wednesday 15 Oct - 'Stand United' Rallying Call Hot topics are appearing Click HERE
EMERGENCY (EXTRAORDINARY) TOWN COUNCIL
Councillors Steve Dancey, Paul Macdonald, Nick Dombowski, and Andrew Davis, after the huge public turnout supported by the words of Cllr. Sue Fraser recommended that a settlement boundary must now be as tightly drawn around the town as possible and will see Home Farm, Spurt Mead, the town park, football ground and Tynings outside the 'limits of development'.
The Western Urban Expansion will also have a significant buffer between it and the bypass put through against opposition again led by Cllr. Pip Ridout supported by 'Independent' Cllr. Cullen and a brace of others. Steve's thoughts on the meeting HERE
Tuesday 7 October - PIGEON Problem.... pigeons have reared their ugly heads again and have been causing chatter at the town council's town development committee. Is there a mystery 'pigeon feeder' ? CLICK HERE
Wednesday 17 September .... WILTSHIRE COUNCIL WHITEWASH - Unitary council will take no action over Spurt Mead Outrage unless the public state they are wrong. No sign of the 'let it rip' housing policy around Warminster ending until after the General Election? CLICK HERE
---
COALITION GOVERNMENT to push on with sale of Warminster's skilled workforce as DSG is going for a song in a panic privatisation. CLICK HERE
---
14th August - Town councillor finds drugs during town centre litter-pick ... CLICK HERE.
---
Monday 28th 'A 'Fair View' Gypsy Lane decision at a packed council meeting is 'one of the best that I have seen for years' says Cllr. Paul Macdonald. 'Well-argued public comment from both sides.' Refusal vote. CLICK HERE Now it goes to Wilts Council
---
Saturday - 'It never rains but it pours yet the roads are awash with water in Warminster' ... Cllr. Paul Macdonald. 'Local people are fed up with telling me about this and nothing happens' ... 'A billion pound business boast' hot topic to follow.
---
Friday - Hot Snippets ... Portway flooding ... Gullies 'Rain Check' ... Two-hats Humphries 'Humph' challenge from Cllr Paul Macdonald.
---
Council cuts or money spinner? Garden waste recycling 'Blues versus Greens' hot topic See our original vision view on green issues HERE
SOME thoughts on the Boreham application by Steve Dancey HERE
Thursday Residents, ward councillor Steve Dancey, committee chairman, the MP, and a host of organisations ignored by planning councillors including one from Warminster and one a leading member of a housing association mentioned in the planning report as HAB 'schmooze' wins latest battle at Spurt Mead
---
LATEST - Spurt Mead - Cllr Steve Dancey unable to speak as all slots have been taken up. Tree-hugging protester Cllr. Paul Macdonald believes that the committee should suspend standing orders to allow Steve to speak on behalf of the ward councillors. Read what he wants to say Click HERE
An e-petition at www.gopetition.com/petitions/stop-the-development-of-spurt-mead-warminster.html gains nearly 200 signatures from Warminster residents and former residents in just over 24 hours
---
Weds 14th May - By-election looms as Steve Welling resigns - see hot topics.
---
25th April - Redrow give up on one of their planning applications. They are not appealing the refusal at Dorothy Walk. (See below)
---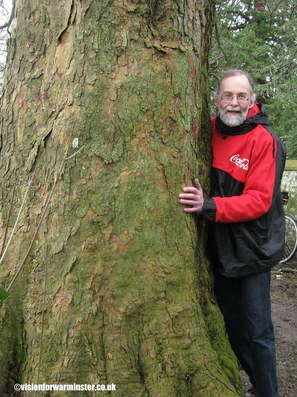 Redrow housing plan for the Minster Church and Dorothy Walk 'Church Street/Bath Road' has been refused by Wiltshire council planners. For their reasons CLICK HERE22nd February Today at 9.30am the public were waiting outside as 'civic pride' is restored to the centre of Warminster in what may go down as a historic moment. Treasured by so many the Town Hall given to the people by Lord Bath's family all those years ago is coming to life again thanks to Sarah-Jayne and Stacey in the aptly named 'Town Treasures'.
---
30th January 2014 READ Cllr Dancey's letter of objection to the Boreham housing plans HERE
---
29th January 2014 Warminster's four widely criticised 'Chocolate Teapot Politicians' used their advisory role to support the extremely unpopular development of the Boreham water meadow . It was against the unanimous view of the local ward councillors. It is now with Wiltshire Council. So are over 40 expressions of local opinion. Another deadline will emerge as the community campaign continues on the street.
Will a TV personality and a landowner listen to residents and obey planning policies?
---
14th January 2014 Holdaway family good name at risk in Boreham and Warminster as a result of hasty application while core strategy remains unadopted. CLICK HERE
Councillors Macdonald and Dombkowski responded to the huge public outcry received about the 'Happiness Architecture and Beauty' approach to building on a 'sacrosanct' Boreham meadow by a TV celebrity, Kevin McCloud, who got the Queen's MBE this month ... Another good name at risk ... see hot topic
See www.dannyhowell.net for local reaction.
---
Wiltshire Council and Planning Inspector still agree in their core strategy deliberations. We, the town of Warminster, are still a priority for employment. Town council confusion has arrived again. Shop jobs by building more houses. VFW argues that more employed workers that then shop in the town is the answer.
---
Read CLLR Steve Dancey's objection to the Redrow Development 'contiguous' with the Minster Church and Dorothy Walk. Click HERE
---
Tory town council says let us all work together with the new voice of public opinion and then bring back their leader at a meeting on an October Monday night .... UNELECTED BACK ON THE TOWN COUNCIL AS A CO-OPTED MEMBER despite his rejection by the electorate ignored and now ignored doubly by his party members on the council. A case of the unelected in full support of the unelectable as Tony's Cronies vote him back into a position of influence. CLICK HERE'
---
NEW Warminster bus service ups charges by 85 per cent overnight. See HERE
---
Most viewed topic this year ....'Boreham Crossroads NDO - R.I.P. Thanks to Steve Dancey and Paul Macdonald' - extensive commentary - http://www.dannyhowell.net/2013/06/boreham-crossroads-ndo-rip-thanks-to.html See TALES FROM THE RIVER BANK HERE
---
And even earlier this year....MP BACKS TOWN HALL BID - Town Council should react with his words 'echoing in their ears' - Click Here
---
Housing ... Housing ... Housing ... Top down & so much for localism' Click here
REDROW PLANS MUST BE DERAILED click here
---
---
---