Hot TOPICS
Community should step up to the mark to help schools
(June 18, 2020)
---
Let the Warminster community help get the education of school pupils closer to normal and provide a boost to the efforts of teachers as they try to cope with the demands of central government is the proposal of a former chair of school governors.
"I have written to the Warminster Journal to get the widest possible consideration of an idea, which if successful, could be rolled out to other towns," explained the former chair of Princecroft School governors.
"There is so much criticism of Westminster politicians stumbling over hiccup after hiccup as they try to move forward let us see if we can help."
The letter to the editor of the weekly popular local newspaper opens with the words 'The government are issuing coronavirus advice which is then pasted onto the Wiltshire Council website which is then pasted onto the town council website.
'This is all well and good and for many of us there is continual confusion.
'The government want the schools to re-open as education must, I agree, return to normal for our children and grandchildren in Warminster as soon as possible.
'But they cannot find a way to get this achieved universally across our country.
'I believe it is time for our community to come to the aid of our headteachers, teachers and governors.'
Paul believe that there are numerous ways of opening up safe spaces for temporary classrooms to be set up.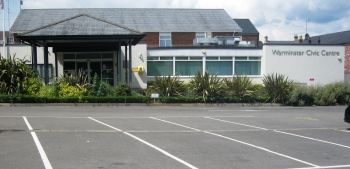 'The town council have a huge hall in their civic centre which is nearly always divided into three areas. These would make ideal little classrooms,' his letter continues.
'All across town we have other opportunities . The Athenaeum has a room behind the foyer. St. Johns Hall is no longer used by the lunch club. At Christchurch there is another hall.
'What is the state of the old scout hut by Avenue School? Could the sports centre provide space for a classroom where badminton is usually played.
'The list of possibilities could grow very quickly.
'Could the army help by providing what houses field kitchens in school playing fields which have the space?
'Let Warminster lead positively by showing a way forward.'
"I hope this will inspire others to put their thinking caps on and not wait for the government to sort this out," added Paul.