Hot TOPICS
Still on the Books Library Civic Storm Brewing
(July 24, 2020)
---
A civic storm is brewing if a plan to make a commercial profit from land that Wiltshire Council owns in Warminster is being dusted off as part of the consultation about its town library.
The future of the library does not make much front-line news but one resident was pleased that it had and used her pen to ensure it got on the back page of the Warminster Journal this week with a clear warning that an eight-year-old idea is still on the cards.
'How silly of me to encourage people to complete the library survey when the answer of the issue of re-opening the library was on the front of the Journal two weeks before last,' wrote retired librarian Nicola Harris published in 'our readers views.
'With more services available online, the need for a large building holding actual physical books, a community hub, a meeting point for so many people may all seem superfluous to the council, whereas a retail unit paying huge business rates could be a more attractive option.'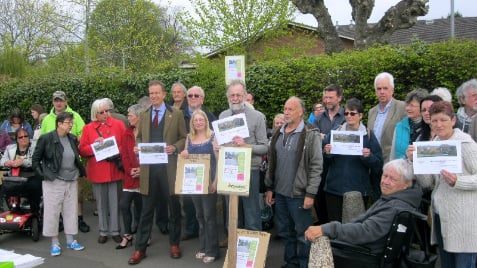 Once again the threat of the almost forgotten agenda that was stood up to once before by a local resident has been brought back into the limelight.
Plans to open access to the whole area in which the Library is placed by running a road through from Portway past Avenue School raised a huge public protest.
Placard carrying members of the public were joined by some local councillors to protest against the idea of the road and in support of the library.
It was a medium term project which has not been amended and is still part of a wish list desribed as a 'regeneration' plan at the time of the protests.
It needs the relocation of the Library and Warminster Information Centre to go ahead with commercial backing at the time being suggested as the owners of the Three Horseshoes Mall.

'And don't think moving/reducing the size of the library is a new idea—please see page 72 of the current Warminster town plan and the Vision and Scoping document which accompanies,' signing off with 'yours cynically'.
*The independent family owned Warminster Journal is priced 48p and published at Coates and Parker in the Market PLace and available at local newsagents and some supermarkets.