Hot TOPICS
Councillors Quickly React To Dangerous Blind Spot Junction
(July 19, 2021)
---
Proposals to improve road safety at a 'near miss' hotspot in Warminster have taken a big step forward just weeks after two newly elected town councillors were asked for their urgent attention.
Copheap Lane, which has a speeding problem qualifiying it for the attention of the Community Speedwatch scheme, has a dangerous blind spot hiding vehicles from residents trying to get out of Hillbourne Close.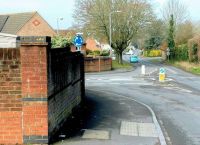 "This is a junction that I have been using regularly either driving up to it, or out of Hillbourne Close, and I was asked by a resident to make it an urgent issue," said Cllr. Paul Macdonald.
"I immediately got in touch with residents with a letter through their door and learned that one unfortunate householder had his car written off trying to turn right.
"The response was overwhelming. Please get something done."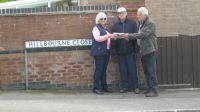 Warminster town councillor Bill Parks was invited to take a look at the situation by Paul with a couple of local people a few weeks ago with their accounts to tell, and the councillors agreed that action could not be delayed.
"Copheap Lane is due to be re-surfaced this summer, within weeks I think, and this gave us an opportunity to put our foot down on speeding up action," said Cllr. Bill Parks.
"On Monday, Paul and myself met with a highways engineer to ask that when the road markings are re-painted that the size of the mini roundabout and the Hillbourne give way lines are changed to move cars into view of traffic from the right."

They also asked that rumble strips be provided to remind motorists that they were approaching the junction but accepted that the heavy goods vehicle traffic would be too noisy in a residential area.

"We then agreed that other road markings could be used instead," said Cllr Paul Macdonald.


"These ideas are now being forwarded to the contractor who will do the laying down of the new tarmac and I hope that this work of Bill and mine will be the answer.

"We will keep in touch with local people once this done and I hope that this simple low cost solution works with the two paces white lines extension."