Hot TOPICS
Tree-hugging Council By-election candidate
(June 26, 2014)
---
Electors in the Warminster West ward by-election to fill a vacancy caused by the sudden resignation of a Tory town councillor will have a choice this time.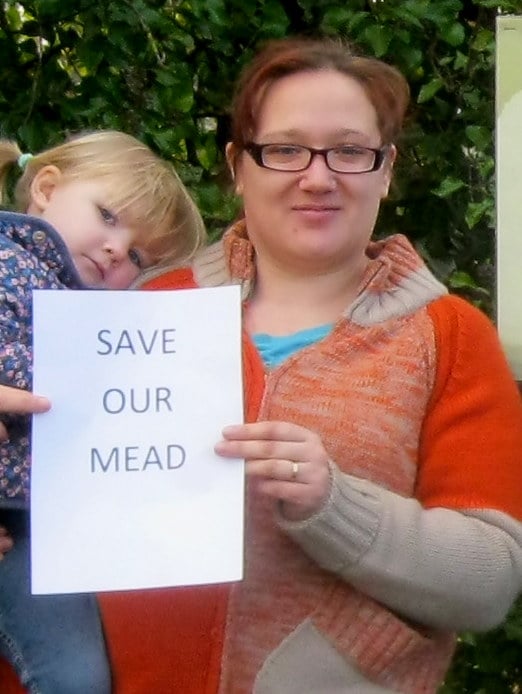 Community campaigner Stacie Allensby, who has already shown her commitment to representing local residents views by joining a tree-hugging planning application protest at Boreham Road, is now an Independent candidate.
"The thing that convinced me to put my name forward was the continual issues that are cropping up in every part of our town that is clearly being walked over and too few are making a strong enough stand," said Stacie who lives in the ward.
"Folly Lane and St. Andrews Road are just not on," said Stacie.
"This is where I ride horses. Folly Lane is so narrow.
"St. Andrews Road gives them a gentle experience of riding with little traffic.
"Then there is the land next to the Grovelands estate which I remember as so wet most of the year.
"And of course the disgraceful Spurt Mead planning application
"I looked at that River Wylye meadow for my horses in the past but immediately rejected it because it was too wet to put a stable on!"
The nomination papers delivered to county hall on Thursday morning have been accepted and confirmed as valid having been nominated and seconded by her best friend Louise Clark and her husband Paul.
"The town is now waiting to see if the Tories try to defend the seat that they held unopposed last year," says Cllr. Paul Macdonald who topped the poll for the Independents in the East ward last year.
"No one had the same attitude as Stacie to say I will put their six years representing this ward to the test," said Cllr. Paul Macdonald.
"Stacie has given us a real ear-bashing about so much more that needs to be done for our town including some really positive ideas which we really think makes her a very good candidate."