Hot TOPICS
Hot Snippets -Gullies Rain Check - Portway Flooding - Humphries 'Humph'
(June 27, 2014)
---
Rain Check taken on Gullies Issue
Glastonbury and Wimbledon so the rain returns as it always does to give newspaper sub-editors a field day in headline writing.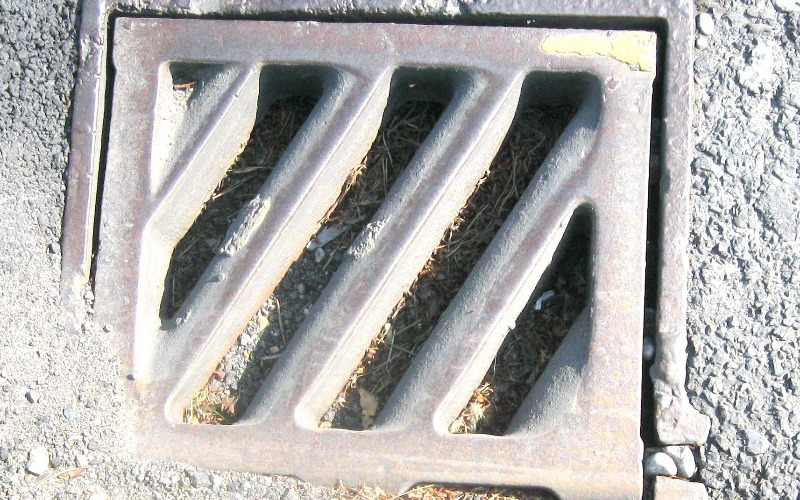 "In Warminster if I was still writing for a local paper it would be 'Rain Check Taken on Gullies'," says Cllr. Paul Macdonald (see Hot topic 19th June).
"It would be the politest that I could write. This is just not good enough as now vegetation is growing out of it."
The town councillor had been pointing residents in his ward and other parts of the town to the reporting system at Wiltshire or then town council.
"After a month of waiting I reported it to the town councul clerk who replied it had been reported months before," explained Paul.
"I reported it directly myself and was not happy with the reply. I then posted the issue on here as well.
"This week I was told the 'vactor' would be clearing the gullies. Still blocked!"
Portway Flooding Tip of the Iceberg'
Warminster Town Council will be asked to use a flooding expert as another attempt has started this week in Portway to deal with the disruption that the town suffeed from with roads blocked as it loses so much of its natural greenfield defence .
"I will be seeking the support of my fellow town councillors to defend our town," said Cllr Paul Macdonald
"I will be arguing that it is not fair that a resident, small groups of residents, and action groups be left alone against those with millions at stake employing their experts."
Councillor Paul Macdonald has experienced not just one or two but three employed experts by proprerty developers at council meetings to discuss the increasingly notorious 'Boreham Mead' but locally known 'Spurt Mead' most recently championed by TV personaility Kevin McCloud.
"I have come to the conclusion thatt this is just the tip of the iceberg if those seeking to succeed in planning applications wish to employ highly professional people," said Paul.
"In my eperience they invite our town councillors to litsen to them and so we should employ our own experts to listen to the people we represent and represent them," said Paul.
"Or do we run town council planning advisory committee meetings in a completely new way. Only local residents speak to us."
*Work has begun at Portway Lane on an overland flow path to take excess water from Portway Lane.
Humphries in a 'Humph
Warminster Town Council is made up of councillors that not only enjoy their unpaid role serving their community as one of thirteen members but also three that also wear the hat of being well paid county councillors as well.
Cllr. Keith Humphries is a town councillor who not only enjoys that distinction representing a ward he does not live in but also is a member of Wiltshire Council.
"Wearing that hat as a county councillor he turned up to a meeting of our town council," said Cllr Paul Macdonald.
"At that last town council meeting under the agenda item declarations of interests he was forced to declare an interest," says Paul.
"He is now minuted 'saying that he was disappointed that nobody had spoken to him about this item before it was placed on the agenda.
The item that casued this to be recorded as an official minute was a call for new action on dog fouling in Warminster and Westbury by Cllr Paul Macdonald.
"I am quite prepared to to explain my moving of this town council notice of motion to him persoinally but if he is complaining about the actions of the town clerk for not telling him it was going to be on an agenda then that is for them.
"I would also say if Wiltshire councillor Humphries wants to throw a 'humph' about what we do as town councillors wearing his big hat at county hall as a cabinet member in charge of dog fouling then I will stand up to him.
"At our council meetings he is a town councillor first. I followed the coorect procedure and it meant that all other town councillors were treated alike.
"As far as I am concerned unless the residents of my ward tell me otherwise he should be a town councillor first when attending our meetings."