Hot TOPICS
New Zebra Crossing at St George's
(May 09, 2015)
---
Eighteen months after a petition was collected by concerned parents of schoolchildren and local residents a zebra crossing has taken another step forward.
In black and white Wiltshire Council are now asking for comments about their proposal to provide the safe crossing point by St. George's school.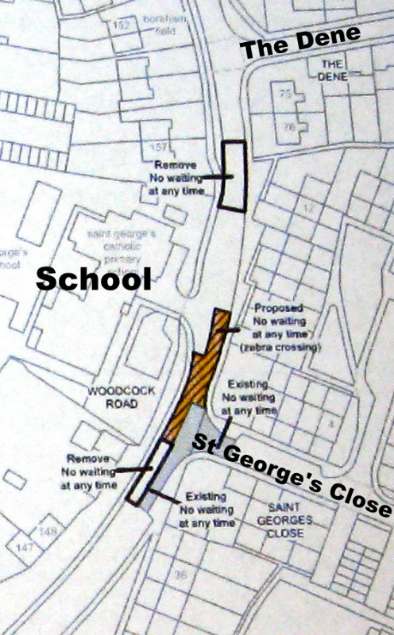 Town councillors presented with a petition heard from local residents and the head teacher at St. George's School about their fears in January 2014.
Upper Marsh resident Rachael Cox told them: "I organised the petition for a zebra crossing because the road outside St.George's has become alarmingly dangerous.
"Joshua, my nine-year-old son, and I have been crossing the road almost every day for the past five years and I have never known the traffic to be so heavy or as fast as it is now.
"So far domestic pets have been the only victims. However I fear it is only a matter of time before there is a serious injury or fatality."
The headteacher Louise Croker had a 2008 travel plan with her and town councillors said they would back her if an up to date travel plan was produced.
This new information was sent to the community area transport group and the sustainable transport group at county hall who have taken the legal steps to provide the zebra crossing.
Details of the proposed scheme may be seen at Warminster Library during opening hours until the close of submission of comments on the 15th June 2015.
*Documents can also be viewed online at www.wiltshire.gov.uk/council/troconsultations.htm
Comments on the proposal together with the reasons for which they are made should be sent in writing or via the website to reach the Sustainable Transport Group by 15th June 2015 quoting reference LJB/TRO/WARM/HY296.