Hot TOPICS
Big Draw to 'Hidden Talent' Trail
(May 27, 2015)
---
Art and craft in the market town of Warminster and the Wylye Valley is once again a big hit with devotees as locals, and those from far and wide, flock to the Wylye Valley Art Trail once again.
Meander anywhere by foot, on a bicycle, or in the car and there are signs everywhere pointing the way to the local creativity that is abundant in an around the Wylye Valley

The ever popular event attracts new visitors and new creative souls to its nine-day attraction now on show for the ninth time this week until Sunday 31st May.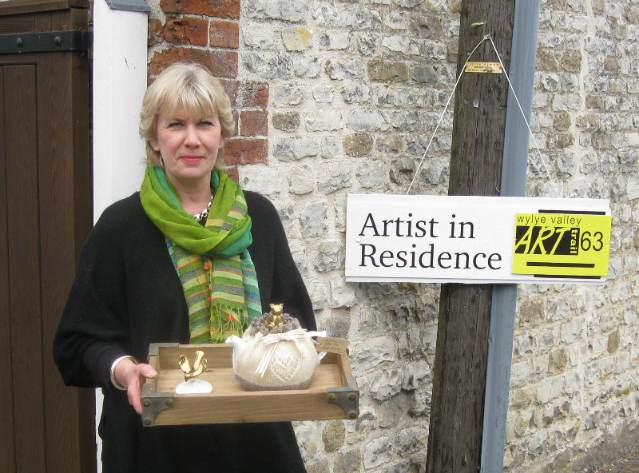 "This is my first time at this the art trail," said Yvonne Henshaw. "This all started as a hobby as I like being creative with woollens"
Yvonne, a former telecommunications worker has swapped one fibre for another to keep her hand in championing a good cause at the same time.

"I always support the NSPPC Christmas Fayre which I think is at Codford this year," explained Crockerton resident Yvonne.
"This is the first time I have joined in the art trail. I know the family here in Boreham and they were so welcoming.
"As a newcomer, this morning I am again surprised that I was offering a cup of tea or coffee to visitors from Oxford and Newbury!"
At just ten pounds a specially arranged tray displayed a tea cosy which caught the eye amongst a wide display of woollen craft.
Nearby displays in the Stables at 207 Boreham Road featured handmade jewellery, eye catching photography, and thought-provoking paintings.
"People say such lovely things which is nice about what they see. They do not just look and say nothing. It is a privilege to be a new part of a dynamic artistic group.

"There is a lot of hidden talent locally which I think we should do more to promote!"
Newcomer Yvonne, whose business card 'Knit One' carries the words 'Just knits for you and your home', joins many others who display at the Old Fire Station Cafe in The Close, Anna Shuttlewood at St. Lawrence's Chapel, Simone Bennett and four others in Chinn's Court.
* wvat.co.uk