Hot TOPICS
Fracking Back on Council Agenda
(January 07, 2016)
---
Members of the Keep Wiltshire Frack Free group meeting in Warminster last night were the first to hear the latest initiative by local town councillors to hold Wiltshire Council to account.
"We are once again bringing this issue to the next full council meeting in Warminster on January 18th," said Cllr. Paul Macdonald.
"After the latest announcement of the areas to see licences offered for hydraulic fracturing we now know that Warminster is slap bang in the middle of one of them."
Paul has submitted a new formal notice of motion seconded by Councillor Steve Dancey calling for Wiltshire Council to do more.

The wording of the motion starts 'Warminster Town Council notes that the Oil & Gas Authority in its 14th onshore oil and gas licensing round has formally offered licences to two areas locally which includes the town of Warminster.

'This council notes that those areas are ST84 Warminster/Longleat and ST94 Chitterne/Imber Range and that with another intrudes into the Salisbury Plain Special Area of Conservation.

'This council recognises that Wiltshire Council is the minerals and waste planning authority and that its current Minerals Core Strategy deposited planning document was adopted in July 2009 and concentrates primarily on aggregates and building materials and has not looked in depth at Oil and Gas extraction and has no strategy in place.'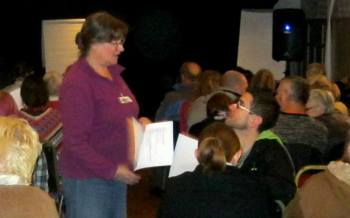 The councillors then call for action from Wiltshire Council.

'This council therefore requests that Wiltshire Council undertakes the following actions;

a: Recognises that since the adoption of the Wiltshire Minerals and Waste Plant here have been a number of issues where additional guidance is needed particularly in relation to hydraulic fracturing (fracking) and organises a public event at which all interested parties can contribute;

b: Draws up a Supplementary Planning document to address this issue;

c: Withdraws all planning applications for oil and gas extraction and associated works from the delegated powers of planning officers.

'We further note that the license offers have been made to a company that has indicated the type of activity as 'coal bed methane extraction' which is a process a lot closer to groundwater than other forms of hydraulic fracturing.

'This information reinforces the policy of this council established in September 2015 that this oil and gas extraction is inappropriate and unwelcome.'
"It was quite clear from the comments that I heard tonight that the public are looking to Wiltshire Council for answers so I have no hesitation in adding my name to this move," said Cllr. Nick Dombkowski (pictured) after the KWFF meeting at the Old Bell.