Hot TOPICS
Severed head left in grit bin near school
(February 02, 2016)
---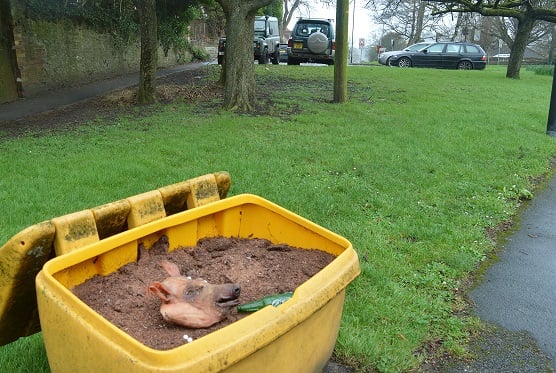 THE rotting head of a pig carcase has been dumped in a council grit bin just yards from the entrance to a busy Warminster primary school.
Despite being alerted to the grisly problem by a parent two weeks ago Wiltshire Council has taken no action to deal with the smelly problem.
The bin, near to Sambourne School, sits at the top of Boot Hill and is well stocked with rock salt for use in icy conditions.
Councillor Steve Dancey, a member of Warminster Town Council, was alerted to the matter by the parent, a 27 year-old mother of two, who was dismayed by the response she received from the county council when she called them to report the severed head.
Cllr Dancey, said: "She was told by the official at County Hall 'this is not a hoax line' as if they didn't believe it.
"She assumed someone might check but nothing has happened.
"I'm quite happy to take my litter picker out and remove litter from the street but I draw the line at dealing with old pig heads. The council needs to treat calls from the public seriously or they will lose more public esteem.
"The parent thinks the matter is disgusting and I'm inclined to agree."
The dismembered head came to public notice after several dog walkers noticed their animals had taken additional notice of the bin and were barking at it.
When the lid was lifted the shocking situation was revealed.