Hot TOPICS
Ten Grand A Year Eyesore
(March 24, 2016)
---
The Warminster 'blot on the landscape' auction this week of a listed High Street building thought so structurally unsound that it needs permanent scaffolding to stop it collapsing has cost the previous owners over £10,000 each year.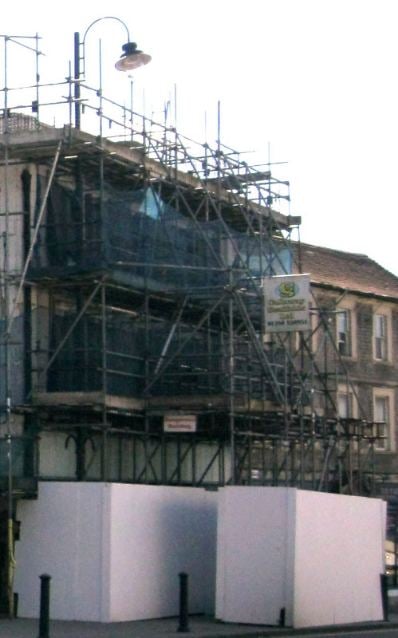 The former shop which has St. Lawrence's Chapel as its neighbour sold this week for £150,000 and potential bidders were warned in a note that the scaffolding unwanted eyesore in the market town costs £150 per week plus value added tax.

There is also an extra £70 monthly payment which also incurs value added tax paving permit paid to the local authority and 'exceptional costs such as replacing the safety netting and shoring up the hoarding.

There was also a warning to the new owners from Allsops Auctioneers. 'The Purchaser is deemed to have made their own enquiries in this regard and will be responsible for all future payments from Completion of the sale.

'Please also note the scaffolding will need to remain in place until the Purchaser has satisfied themselves with regard to the structural integrity of the building.

'A Structural Appraisal dated 14th March 2013 is available for inspection within the online legal pack.'
"We are all hoping as a community that this sale will now see this blot on the landscape soon consigned to history," said Cllr. Paul Macdonald.
"We hope this financial waste of money which could be better spent restoring this building which I remember buying menswear in years ago to its former glory."