Hot Snippets
Westbury Gasification plans: With no debate, a very low key introduction which was factually wrong to the agenda item subject, and a few 'parrot' words Warminster Town Council voted to continue supporting Westbury Town Council about the Northacre plan.
Absolutely no detail about how they were going to do that in a pro-active way.
This is one of those major planning applications in my experience that transcends well beyond the parish in which the planning application site sits and needs a very detailed response from neighbouring councils. Paul Macdonald. 10th August 2020
Brexit Meeting at the Athenaeum
The European Union referendum in Warminster is now under way after the announcement by David Cameron setting the date for the 23 June as the 'Leave Take Control' campaign have lined up a senior Conservative MEP to speak in the town on Thursday 25 February.

It is billed as 'An Evening with Dan Hannan' who has been a Member of the European Parliament (MEP) since 1999 topping the poll for South East England for the last three times running.

The meeting which starts at 6.40pm will be held in the Athenaeum Centre in the High Street which has seen a steady stream of UKIP supporters in the past present arguments against staying in Europe.

This is an opportunity to now hear a Conservative Party speaker and to meet him personally.

The MEP will greet Vote Leave supporters and the public before speaking and taking questions on the European Union and the referendum.

He will then be available to meet the audience informally afterwards with the bar open from 8pm to 9.30pm.

Daniel Hannan is also a writer and journalist. In the European Parliament, he led the campaign for a referendum on the European Constitution and is now a supporter of Vote Leave.
Over 100 people have registered their interest in attending at the website http://www.voteleavetakecontrol.org 21 February 2016
Fracking on the Full Council agenda

Two Independent Trowbridge Wiltshire councillors have ensured that the issue of 'fracking' will have to be debated next Tuesday at county hall.
"I welcome this because my work as a Warminster town councilllor supported by councillors Nick Dombkowski and Steve Dancey has seen our town council now ask Wiltshire to do more in-depth research about this," said Cllr. Paul Macdonald.

Trowbridge unitary councillors Jeff and Helen Osborn have sent in a notice of motion that calls on Wiltshire Council to take a view about the recent allocation of licences for four blocks of land including two in the Warminster area.
'This Council is concerned that the Oil and Gas Authority (OGA) has recently decided to offer licences for four blocks of land in Wiltshire.

'Council notes that the OGA states that the licences for these blocks will contain conditions prohibiting activities in order to protect ecological sites.

'Nonetheless, in its response to the Habitats Regulations Assessment (HRA), Council made a cogent case against the 'water hungry' nature of this mode of exploration and exploitation because of the serious impact it will have onWiltshire aquifers.

'This in consequence will constrain future housing development in the county. For these and related reasons, Council has major reservations regarding fracking in the county ...'

....more can be found on page 295 of the 23rd February Council agenda public pack at the Wiltshire Council website.
* Hot topics about fracking decisions by Warminster Town Council are found by scrolling down hot topics above.
Fully Booked Seasonal Overflow Camping Answer

Pitching up in part of Warminster has become so popular say the owners of a small campsite tucked away on the outskirts of the town they are asking for the go-ahead to expand into the neighbouring field.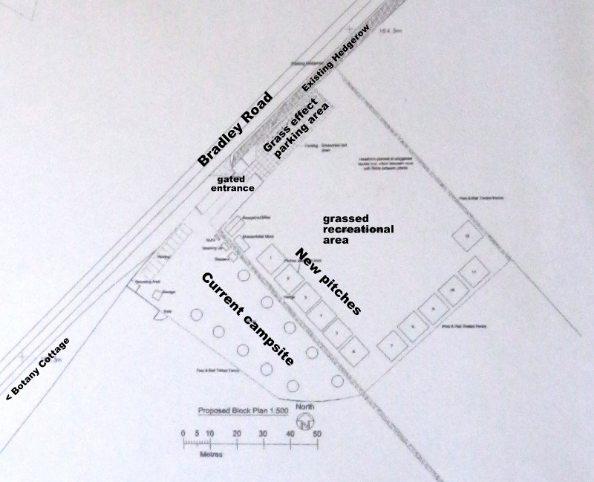 Botany Camping in Bradley Road, which already has permission for its current attraction to tourists, wants to add pitches with more parking and another shower block for camping and small camper vans from March until October each year.
The mixed agricultural use on the site adds twelves pitches to the ten that already exist all year round. For four months of the year it would go back to grazing for the nearby Botany Farm equestrian centre.
A small office next to existing showers and toilets as a reception area will appear if the planning application is approved.
A new parking area screened from view by an existing hedgerow will use 'grass crete' to blend in with the neighbouring area.
'At present, Botany Camping is at full capacity based on its current available pitches and the applicant is currently turning away bookings for the coming 2015 summer period,' they write in support of the application citing tourism policies in their favour.
Warminster town council are discussing the idea on Monday 18 May at 7pm at the civic centre. Planners at county hall will make the decision. 15 May

Business and Employment Boost Planned

Plans have been drawn up to add industrial units in Warminster on land next door to Dents glove factory in Furnax Lane within a short distance of the by-pass and walking distance of the town centre.
The scheme submitted by the Bauer Group of Slough proposes 15 small-scale opportunities for offices, manufacturing or workshops to be built for let or to buy.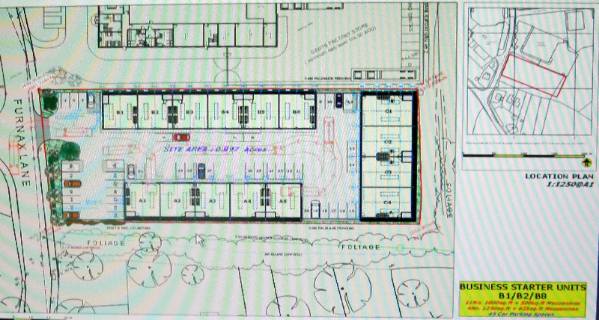 The average size of the units will be just over 1,000 square feet and are laid out along three sides of the vacant plot.
They are described as business starter units providing a jobs boost to the Wiltshire market town.

Designed with 46 parking spaces, and laid out to enable heavy goods vehicles to turn around within the site reducing the need for reversing into Furnax Lane, which is also home to the busy Wiltshire Council recycling centre.
The planning advisory committee of Warminster town council will be looking at the application on Monday night as a consultee to the decision makers at county hall.

"I welcome this application and the development cannot be opposed in principle," said Cllr. Paid Macdonald after looking at the plans.
"It is important that the screening of the three houses that are along one side of this site is got right and that the local drainage system can cope.
"The chance to give employment hopefully for local people is very welcome and if the rents are set at the right level may encourage some local businesses to move in." 14 May

'Loss of Control' Blackspot
A problem bend in a major thoroughfare in Warminster to the local barracks, Kingdown Academy, and two junior schools which regularly catches out unsuspecting motorists is to be improved next month.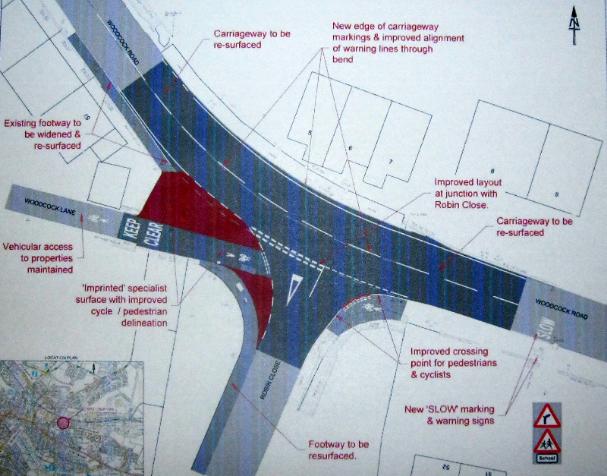 The bend in Woodcock Roadis an accident blackspot at its junction with Robin Close and Woodcock Lane has seen drivers lose control and end up colliding with local property.
The town council took the problem to highways officers at county hall adding concerns about the poor conditions for cyclists and pedestrians and six months ago agreed to an outline scheme.
The evening improvement works start on June 8th if the weather conditions are suitable and could be finished within three weeks.
Robin Close and Woodcock Lane residents will still have access during the road closures.
"This is good news as I regularly cycle by here and have seen the aftermath of the accidents," said local councillor Paul Macdonald.
"I am now hoping that the safety improvements on the curve at the other end of Woodcock Road will be completed later this year." (See hot topic 9 May) 13 May
A Letter or Two to the Editor



The newspaper of record in a market town of Wiltshire is the independent family owned Warminster Journal publishing letters to the editor for more than a century about local issues. It is always on sale at the Coates and Parker shop in the Market Place where it published. For those of you who cannot get a copy two recent missives (left). 10 May
---
Piece Of Cake Politics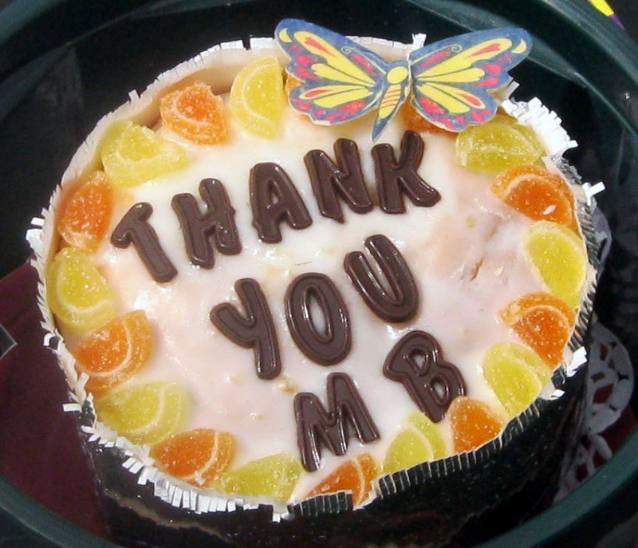 The general election is now over but often throws up images of candidates having fists waved at them, accusing finger-pointing, and even placard bearing protestors as they put themselves forward in public.
In one famous incident John Prescott punched a farm worker who threw an egg at him. The former deputy prime minister was on the campaign trail in Rhyl during the 2001 general election.
In Warminster locals seemingly do things differently as one would-be MP discovered today.
Imagine the surprise today when care worker Tracy Scott, the town's newest community campaigner, instead used an egg to bake a thank you cake for UKIP candidate Matthew Brown instead.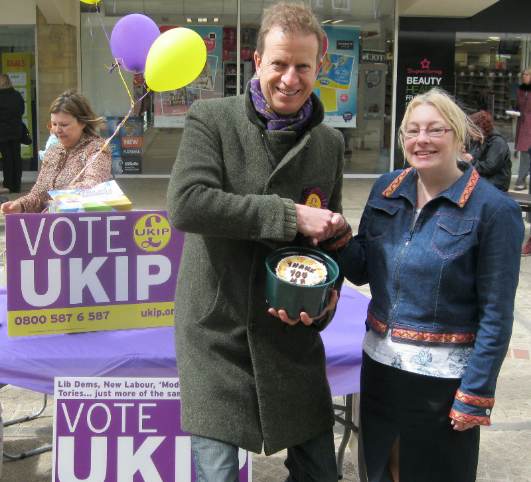 "I wanted to thank him for all his help while he is very busy," said Tracy who bumped into the candidate The Avenue.
The parliamentary hopeful stopped to talk seeing Tracy single-handedly offering passers-by the chance to view the controversial plans to turn car free pedestrian, mobility scooter and cyclway into a major access road and to sign a protest petition.
"Matthew really listened and because of his support I had the courage to run a protest action day without ever having done anything like it before."

The Portway resident, who even got the taste of public speaking twice alongside Matthew Brown, dashed home to her kitchen when she realised he was back in town, and three hours later arrived with her thank you gift.

"This is a very pleasant surprise," said a delighted Matthew. "Thank you so much. Look. There are even our party colours!"
Later that day Paul Macdonald, a veteran local campaigner who supported the day of action, also enjoyed her appreciative cup cakes with his family. May 7

Warminster's very own 'Royal' baby

Gypsy plan gets special attention
A Warminster unitary authority ward member attempt to get councillors from the local area to decide the future of a plan for a small gypsy site at one of the entrances to the market town has been overruled.
The Bath Road plan for four mobile homes and four pitches for travelling caravans and day rooms saw councillor Pip Ridout use her right to 'call-in' the application to the western area planning committee. (See 29 April hot topic and 10 April hot snippet)
Under this process if the planning officer is going to make a recommendation using his delegated powers against the views of local residents, and the councillor can tick certain boxes, then it goes to councillors from that part of the county for decision.
Wiltshire Council have now ruled that all applications related to Gypsies and Romany families have to be considered by a different committee made up of councillors from further afield.
'All gypsy site applications have to go to Strategic Planning now whether for approval or refusal so no call ins apply,' wrote councillor Ridout in an e-mail to town councillor Paul Macdonald
'The one for Bath Rd is on next list 13 May with rec(ommendation) to permit!'
The strategic planning committee is chaired by Warminster councillor and town mayor Andrew Davis. Another councillor Christopher Newbury, who represents a small part of Warminster along with the Wylye Valley sits around the same table at county hall.
Cllr. Trevor Carbin is another member campaigning to be the local MP in the general election on Thursday 7 May. 1 May
Controversy plan goes back to where it belongs
The controversial Neighbourhood Plan exhibition screens have returned from their foray into public view to the home of the working group that finally delivered it after two years of deliberation under the stewardship of a co-opted former councillor.
"In a town council press release issued today we hear that town council staff will face the flak as 'it will remain on display at the Civic Centre until the consultation finishes' on the same day that the country votes at the general election," responds Cllr. Paul Macdonald.
"Be gentle with your words to our council staff as they are just the messengers. Not the unelected and elected councillors who devised it which did not count me amongst their numbers."
The press release adds: 'The three days at Warminster Library engendered a good degree of interest from residents, following which the exhibition was taken on request to the Avenue School for three days and from there to Princecroft School on Friday 24th April.
'The screens have been put up in the foyer at the Civic Centre for anyone to come and view during the Centre's opening hours, 9am until 4.30pm.
'The next official 'exhibition' will be held on Thursday 7th May in the Copheap Room, where members of the Neighbourhood Plan Working Group will be on hand to answer any questions.
'For those who cannot make the 7th (May) but can come and view the panels beforehand, the Town Council staff will be happy to help with any queries.
'For those who have attended the exhibitions the working group members have been delighted to be able to explain the rationale behind the policies in the Plan and the vision for the town's future.
'It is evident from the feedback that there are some aspects that are of concern, and once the consultation has finished and the responses are collated the Plan will be redrafted to take account of what people do and don't want to see in it.
'Don't be afraid to tell us what you think – this is our Plan, for our town. Everyone's opinion counts!' 28 April
Think again former Mayor plea
A former Mayor of Warminster town council whose photograph is on the wall at the former assembly hall is issuing a plea to current councillors to reject an increase in the charges and make it affordable to ordinary townsfolk again.
Finance committee members of the town council are tonight being asked to approve a five per cent increase in some of the charges and other changes to the demand it makes of those who wish to hire the £1 million new Civic Centre.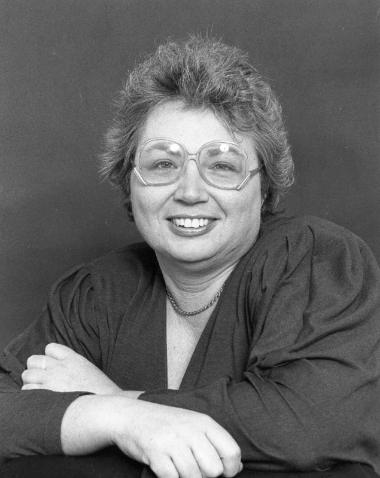 "I wanted to organise a 65th birthday party," said May Law who served the market town as their mayor (archive picture) twenty years ago. "I quickly had to give up the idea when I started trying to budget for it at the rates the civic centre.
"I also wanted to organise tea parties for the elderly but the amount I would had to charge was too exorbitant so I shelved the idea.
"The problem is made worse by the lack for alternative town centre locations that are available to ordinary residents on a non-commercial basis and this hike in the charges will only make things worse.
"Dewey House would have been cramped as an alternative and though not ideal has disabled access for those using wheelchairs. But that is no longer a town council property that is available."
May, who served as an independent Liberal Councillor (refusing to join the Liberal Democrats) from 1991 until 1995, has kept all of her passion about Warminster through to the current day two decades later.
"When I said I only wanted to hire it not buy it I don't think that went down too well!
"Come on councillors on the finance committee. Surely the town council should use all in their power not to run something making money from businesses to pay off the mega-loan but something to serve all levels of their community." 27 April

Thank you to a breakfast venue
Away from all the parish pump politics and local council goings-on Vision for Warminster took time to show their appreciation to one of their favourite people this morning.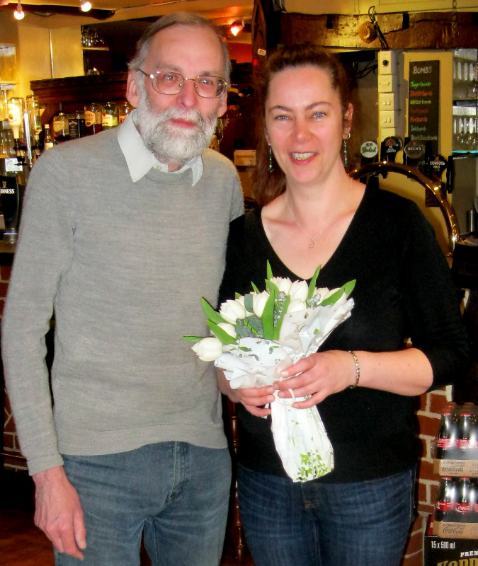 "There is sometimes a sign in shops that goes along the lines of 'If you are happy with our service tell others. If not ....'," explained vfw co-author Paul Macdonald.

"Two years ago today a few of us started turning up for a breakfast together locally near the town centre to chat about this and that before going out to talk to local people.
"The next Saturday Steve, Nick and I came back as newly elected Independent town councillors for the ward joined by Jamie from the Broadway ward.
"We enjoy the setting and since then others have become regulars for breakfast or for a coffee and a natter between ten and eleven-thirty.
"Today I say it here and I said it with flowers earlier. Thank you Emma at the Rose and Crown in East Street for your consistent high standard of service and quality of food.
"We really appreciate it." 25 April
*Next Saturday 2nd May we will be later than usual as we are attending the WCR hustings with the five general election candidates
The future of Woodmead
The future of the former council run Woodmead residential home at Portway is a regular question to town councillors when stopped in the street by local residents and members of staff who have worked there.
It was handed back to Wiltshire Council by the Order of St. John's Care Trust who ran it for them until it closed when they moved into the new Ashwood care home at the former Beckford hospital site in Gypsy Lane.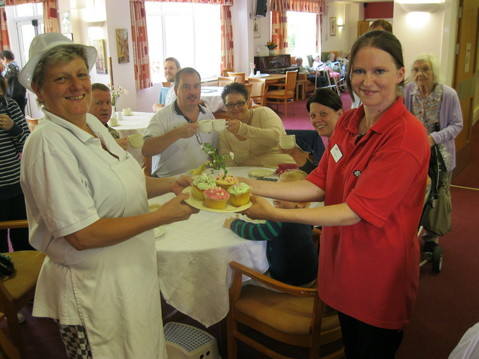 "Five months ago the county council announced their scheme for Woodmead to be demolished clearing the way for a new 40 bed residential extra care home to be built," says ward town councillor Paul Macdonald.
"We have been told that it may also have useful areas and services for those that are not resident to visit which I am keen on because we are going to need more day care as our elderly population continues to grow."
Funding has been agreed and the planning application which will show the look of the new building is expected shortly.
Once the permission has been ironed out the hope is to have it opened by April or May 2017. 25 April

*This scene could return to Portway in 2017
Six Grand too grand camera view
Warminster town councillors are looking at spending a minimum of six thousand pounds on their former home at Dewey House abandoned when their mega-loan new home was created at the Assembly Hall.
After their departure Dewey House became the base for the local food bank scheme which is now used by one million people nationally according to newspaper reports. It retained their largely taxpayer funded CCTV central office upstairs supported by Westbury town council and two commercial areas.
The town councillors on Mondayevening at a Finance and Assets meeting. are being asked by the town clerk to consider the result of her discussions with a conservation officer and a validation officer at Wiltshire Council
An architect fee of nearly £3,000 accounts for nearly half of the project at the listed building.
Replacement of a CCTV camera adds nearly £2,000 to the work at the building donated by a former school headmaster to the town.
In addition councillors will need to discuss new windows the agenda item for the committee meeting has a series of 'not yet known' items for them to ponder.

Candidates Wake Up Call
The newest local protester in Warminster to take to the streets in a market town of Wiltshire was the surprise start to a meeting at a council building being used as a general election venue alongside music from commercial customers.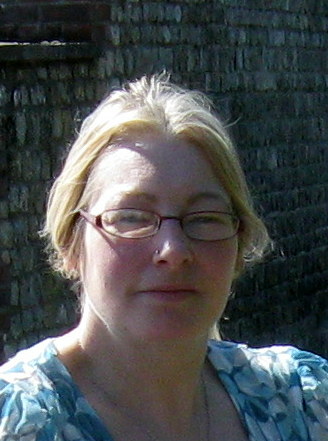 Tracy Scott, a single mum who does not drive a car having been alarmed about a safe pedestrian, wheelchair, and cycle route, stood side by side with a would-be MP Matthew Brown and a MEP.
By chance the general election candidate was walking by when she single-handedly launched her petition in The Avenue convincing him to sign it.

The petition demands that the plan to build a new road demolishing the fire station and everything in its path to get to the central area of the town by the Avenue School is rejected.
Delaying the start of the speeches, the question and answer session of his party political rally, candidate Matthew Brown invited Tracy forward to speak.
Flanked by the candidate, and others sat at the top table, including a member of the European Parliament, Tracy explained her campaign.
The better than allowed for attendance meant that seats were borrowed from another room to cope with the attendance. It saw them hear her briefly outline her community politics cause to the local residents.
Tracy held up her file being shown to the public at her regular forays into town seeking signatures before asking them to attend the day of action dealing with a slight heckle in a confident and assured way. 23 April
*The day of action Friday 24th at twelve noon in The Avenue.
Controversial 'carbuncle' plan display
The neighbourhood plan which saw the late addition of a new road from Portway to the town centre car parks described as a 'carbuncle of an idea' at last nights annual town council open forum meeting is now on display at the Avenue school.
The interim chair of the governors Paul Sykes (pictured) heard that the consultation boards were going into storage after they being taken down at the library at the weekend.
Saturday should have seen a good turnout to view the plans that have become controversial since they were finally revealed to the public after two years being discussed by a working group.
An average of 12 residents an hour attended the day long display. The annual forum heard widespread discontent from residents that they did not know about the plan consultation hearing about it 'by word of mouth'.
The boards will be on display in the reception area for three days. 21 April
Three Horseshoes Three Hours
Warminster's Three Horseshoes Walk, which currently has free parking, changed hands last year - will the free parking stay? Or will it be limited to three hours?
"I have today sent an e-mail to New River Retail who are the new owners for information about their plans for their car park," said Cllr. Macdonald.
"This comes at time when Wiltshire Council has completed its car parking review and is consulting the town council on the future ownership of the local authority owned ones.
"It is also at a time when I am getting increased complaints that the car parking charges are creating misery for those who live in roads and streets within walking distance of the town centre as full-time workers cannot afford them.
"And to cap it all off it is at the time when all sorts of plans, flawed in many eyes, are in the melting pot about the town centre.
The authors of the Neighbourhood Plan being promoted by a town council working group say that the Fire Station should go to create a new road to the Avenue School to open up a rat run to the car parks.
A county council shadow board project can only be funded by demolishing the library and other property owned by them and other public authorities as they do not have any cash to put towards them. 19 April

Latest - Prompt reply received from a representative of New River Retail. 'Thank you for your email. We have recently met with Heather Abernethie (town clerk) and Tim Martienssen (Wiltshire Council) of which the car park was discussed. The car park is now within our control and we will be introducing 3 hour free with thereafter enforcement shortly. 20 April
---
Community not party politics leaflet 20 April

New Consultant at new look Regency House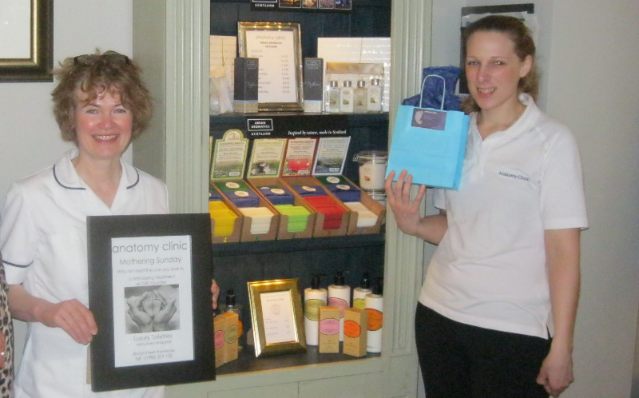 The former Regency Arcade in Warminster has taken on a new look this year and now has a new consultant at the Anatomy Clinic established by Anne Hinton.
"Aromatherapy came into my life six years ago when my own health had reached an all time low," explained Georgina Waters,
"I decided enough is enough and started my journey into the world of complementary therapy. Aromatherapy interested me from the word go, and after experiencing its healing power first hand, I decided wanted to know more."
After two and half years of studying at Bristol School of Holistic Therapy Georgia completed the course with 'flying colours.'
"Six months later I found myself at the Anatomy Clinic's doors," said Georgina (pictured right with Anne). "I knew it was for me straight away and have been enjoying building my business here since.
"I am currently offering Aromatherapy massage, which is a very gentle and calming treatment, but can be useful for a wide range of aliments, its not just about the great aroma and relaxing vibes.
"I also do a holistic massage, a type of Swedish massage, for those who prefer a more vigorous and stimulating session, great for athletes and people who work in very physical jobs."
Georgina is a Neal's Yard Remedies consultant and in August will add hot stones massage which aids the relaxing of tight muscles ' also great for muscular aches and pains.'.
"I hope to get my organic holistic facials up and running during the summer, offering skin care advice and a chance to try some lovely products.
"Overall I am very pleased to be starting my therapy career at anatomy clinic, Anne Hinton has been so kind and supportive in helping me to find my feet, I could not have wished for a better clinic or nicer team to work with." 16 April
Email [email protected]
The Warminster Valley News Lead Story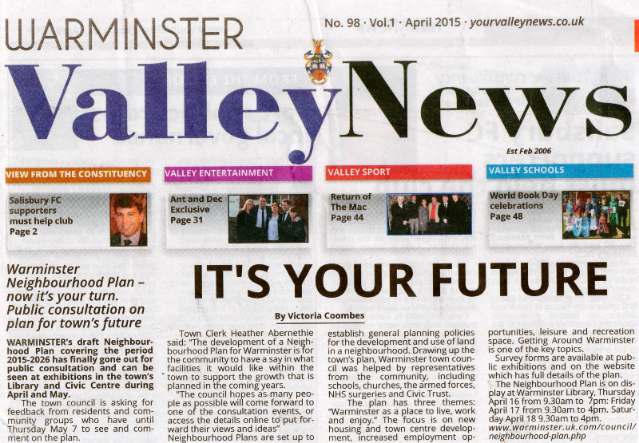 The Warminster Neighbourhood Plan project is having another series of consultations starting today and it has made front page news in the leading quality monthly newspaper serving Warminster, the Wylye Valley, and its hinterland.
"I do like this newspaper which is full of interesting stories about life and events not just in Warminster but comprehensively about the area around here," says Independent town councillor Paul Macdonald.
"One interesting story is about the UK Youth Parliament Wiltshire youth assembly elections which has now encouraged me to find out more.
"I picked mine up in a shop in the Three Horseshoes Walk." 16 April

Annual Parish Meeting

LOCAL GOVERNMENT ACT 1972
NOTICE OF PARISH MEETING FOR WARMINSTER
NOTICE IS HEREBY GIVEN THAT-
The Parish meeting of Warminster will be held at Warminster Civic Centre, Sambourne Road, Warminster Wilts BA12 8LB on Monday 20th April 2015 at 7pm.
Local Government electors for the Town will be entitled to vote at the Meeting which will be open to the public.
The business to be transacted at the Meeting will be as follows:
1. Welcome & Apologies
2. Minutes – To approve the minutes of the last Annual Town meeting held on 14th April 2014
3. Chairman's Report – to receive the Annual Report of the Chairman of the Town Council 2014/2015 which also includes the financial report.
4. Forum – Questions to the meeting on issues relating to the town.
5. Any other business
Councillor Andrew Davis
Town Mayor
13th April 2015
Town Councillors Back Gypsy Objectors
The Romany Gypsy plan by the owner of a small plot of land along Bath Road once again heard from the public seats at the start of the town council planning advisory committee meeting objector after objector.
The 'change of use' permission is being sought to provide a new home for for four mobile homes with four detached day rooms, four touring caravans, and and a childrens play area. It would have a septic tank.
Councillors had previously voted against the plan last year and rejected the findings of two new reports in support of the application.
The risk of flooding, the proposed entrance to the site, and the location of a gas main and water main were discussed at length.
Warminster Town Council have once again lodged an objection with the planning authority Wiltshire Council. 13 April (and 10 April)
Community 'Fence Warming' Party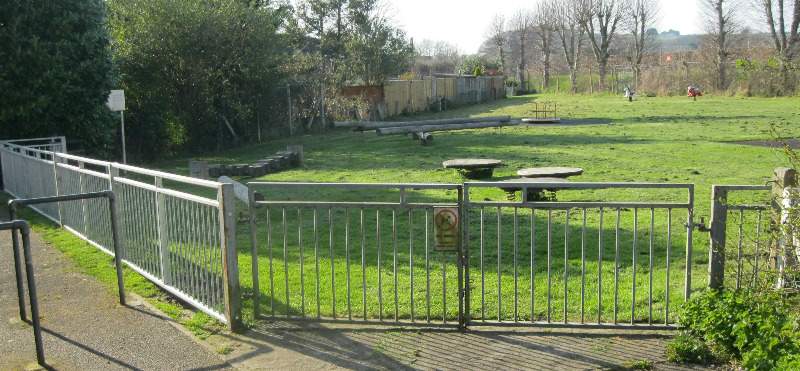 The Dene children's play area 'fence warming party' idea as this week after years of complaints and representations by a local resident that the new play equipment fencing had not been replaced have finally been answered.
"Local residents and I can now look forward to not having to take a poop scoop with us to this really nice play area," says Cllr. Paul Macdonald. "I raised this issue before I became a councillor and at last a really good job is here.
"It has taken years for this to happen and I will not bore anyone with the lack of and negative responses I have had. At last!'
Amongst the complaints that stirred Paul into action was the concern that those looking after several children could not keep an eye on them all the time and stop them running off.
"I hope this is the first of many quicker responses from Wiltshire Council to what is strikingly obvious," added.
The councillor is now talking to locals about organising a small celebration of this improvement.
"I think we should have a 'fence-warming' party where mums and dads, grannies and granpas, sit on this new safeguard giving it a warm welcome while watching the children at play free of dog poo." 12 April

Flood Resilience Money Available

Wiltshire Council have a pot of money available to help pay for work that undertaken since April 2013 to protect property from flooding.
"I hope this will be useful to some of you living near the River Wylye or other areas that have had problems," says Cllr. Paul Macdonald.
"There is grant money available for those who have experienced flooding and spent money on measures to prevent it in the future or wish to now work on 'resistance and or resilience measures'.
"As usual there are conditions and there is a deadline fast approaching. If anyone would like to know more the link is www.wiltshire.gov.uk/…/floodrelief…/floodingrepairrenewgrant." 12 April

Radio, Theatre and Ukelele Cash

The late George Formby would have been delighted at the work of the local area board of Wiltshire Council as thousands of pounds since the start of this year support radio, theatre, and the ukelele that made him famous.
The area board, piloted by current Warminster Mayor Andrew Davis who described himself famously as 'Cilla Black', has money to grant or award to local organisations.
At their latest meeting the council gave the Warminster Ukulele Club which held its first meeting in February nearly two thousand pounds towards equipment, and the Friends of Warminster Community Radio (WCR) get a cheque for £857.95p to give a 'community visual media service'
In support of the bid WCR stated it will offer 'a low cost high def DVD production service to involve filming editing and post production for hobby clubs, schools and organisations needing quantities of souvenir DVD's of events of events or promotional discs. The service will give the friends of WCR charity another venue to generate funds for its own costs.'

The January meeting of the board awarded the Athenaeum Trust in Warminster a capital grant of £5,000.
The decision was taken by councillors Davis, deRhe-Philip, Humphries, Newbury and Ridout. The Community Area Manager reported 'Members may wish to note the Athenaeum Trust has received 4 grants previously from The Warminster Area Board since 2009.'
The four earlier grants to the theatre amounted to just under £20,000.
"There is £14,000 left over this year if I read the figures correctly," says town councillor Paul Macdonald. "It will be rolled over into next year." 11 April

MP objects to Romany Gypsy Plan

A Gypsy plan opposed by the local Member of Parliament is going before members of the Warminster town council 'advisory' committee on Monday night.
The plan for four mobile homes with a day room within their pitches, a children's play area, and one touring caravan has seen the town object when it was first submitted.
The site beside the Bath Road features a sealed off septic tank, a hedge of 'local natural species', visibilty splays, and permeable stone and grass.
Andrew Murrison MP penned a letter to Wiltshire Council planners after being contacted by a local resident to support their view adding 'I anticipate further such objections, would like to record mine and would draw your attention to the fully and comprehensive examination provided by my constituent.'
The first stage of the planning application was formally rejected by members of the town council in December 2014.
In their reasons for recommending the objection Councillor Rob Fryer supported by Councillor Jamie Cullen 'proposed refusal of application due to the major flooding issues in the area, the location of the gas main and that it does not conform to gypsy site criteria and regulations in relation to highway safety, public transport and shops.' 10 April

Town councillors 'clock-watching' debates

Warminster councillors are considering the best way forward about the future of the clock that features prominently towards the centre of town the front of the former post office in the Market Place.
The minutes of their meetings show that they are trying to find out who owns of the clock, the cost of getting it working again, the views of the owners of the building, and whether they should fund lighting it up.
The town council have in the past supported a proposal from Cllr. Paul Batchelor to light up the Obelisk at the junction of Vicarage Street, Silver Street and Church Street. 10 April

Shop Signage 'Glaring' Mistakes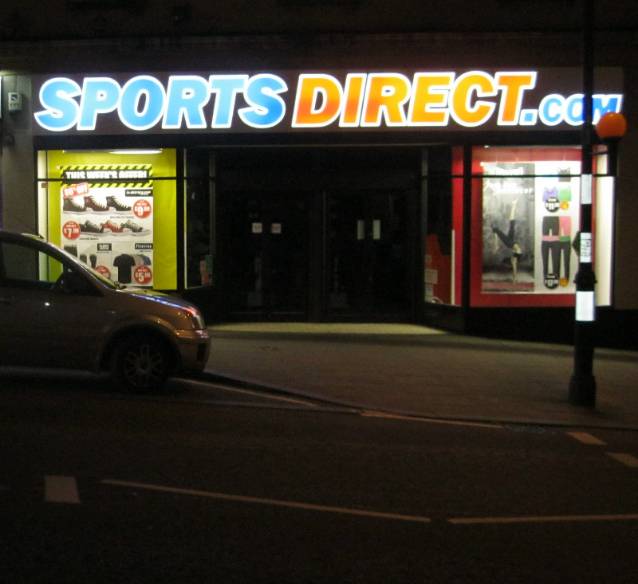 Wiltshire County planners looking after Warminster town centre could be making a 'glaring mistake' as town councillors increasingly express their anger at the appearance of the market town at night.
"At meeting after meeting of our planning advisory committee that sends our view to Wiltshire Council we point out the glaring mistakes that literally dumb our market town appearance to that of a city centre about this Las Vegas style signage," claims town councillor Paul Macdonald.
"We all believe that there is planning policy in place about our town that ensures the lighting of shops is in keeping with the conservation area and setting of our main streets which includes high grade listed buildings.
"I shall be making strong representations about this which is illustrated by the latest shop in the High Street. I hope others town councillors will support me."
Businesses have to apply for 'Advertisement Consent' from Wiltshire Council who then consult with the community and the town council before taking a decision.
*Cllr. Steve Dancey was forthright in his view about the Factory Shop window front. See hot topics.

Green Bin Redundancy Terms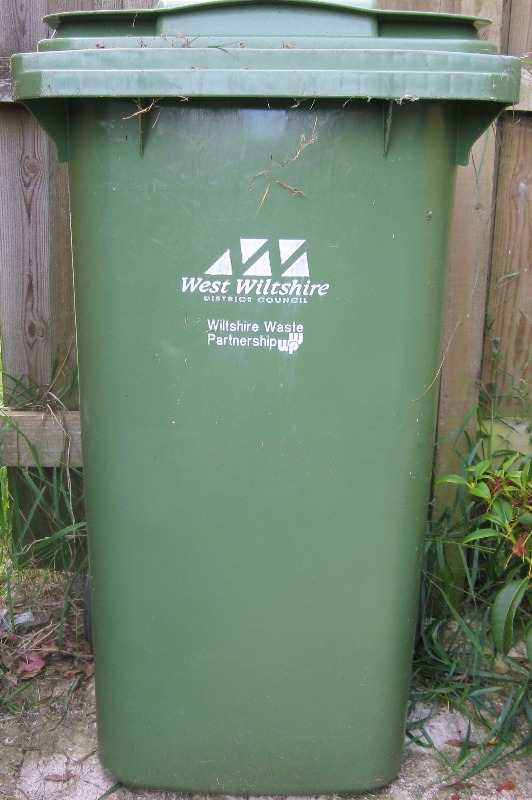 Wiltshire Council recycling cutbacks have led to a service being made largely redundant as the countdown continues towards the restriction of the emptying of the 'green bins' available to those willing to pay.
"There are differing views on this issue but time is running out for for residents to have the sticker slapped on their wheelie bin to show that they have paid for this service, " says town councillor Paul Macdonald.
"The interesting thing is as the unitary authority do not want the things back what will the rest of us do with them.
"I am thinking about suggesting they should take them all back and recycle them to another less austere country that could use them to improve the environment and health of their people.
"Could this large redundancy come with an offer of redeployment?" 10 April

More 'Late' Localism for Neighbourhood Plan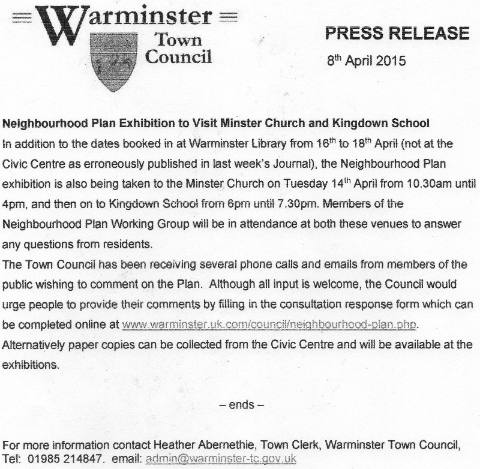 New exhibition venues for the increasingly controversial work of the Neighbourhood Plan members have been announced by the town council in a press release.
"I particularly welcome these opportunities for local people where there have been some very controversial planning issues but I have questioned why we are getting such late notice about publishing to the town their existence," says Cllr. Paul Macdonald.
"I am very much in favour of a good turnout at the Minster Church at 10.30am and Kingdown School at 6pm next Tuesday to express their views to the members of the neighbourhood plan working group responsible for this.
"I understand the wish to contact the town council offices direct but I would reinforce the message in the press release that there are comment forms and an internet link available to give comments.
"I was very briefly a member of the working group two years ago but this is the way I will respond." 8th April

The press release reveals that there was a hiccup in the progress of the statutory public consultation which leads to a referendum on the plan. The plans will be available at the town library for three days from next Thursday

Save the Tea and Ice Cream Hut Icon?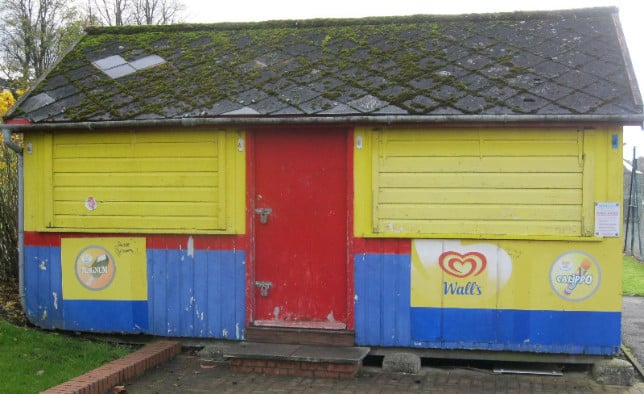 A public building that has stood the test of time for decades is once again the focus of public attention in Warminster as the Tea and Ice Cream hut stands unattended to in the town park.
"It is as seasonal as the beach huts at the seaside but it is raised with me time after time once the time to enjoy the park really arrives," said Cllr. Paul Macdonald.
"I am stirred into action again by a visitor who said to me 'if I scream ice cream hut loudly enough will someone pull their finger out' in a joking way to make their point."
The town park is now jointly run by the unitary authority, the town council, and the Friends of Warminster Park.
Another Warminster town councillor Nick Dombkowski is also calling for a fresh look at the future of the icon.
"Well it is iconic," says Nick. "It's traditional. It's part of Warminster Park. Yes its salvageable I have told visitors." 8th April
Easter Holidays Thank You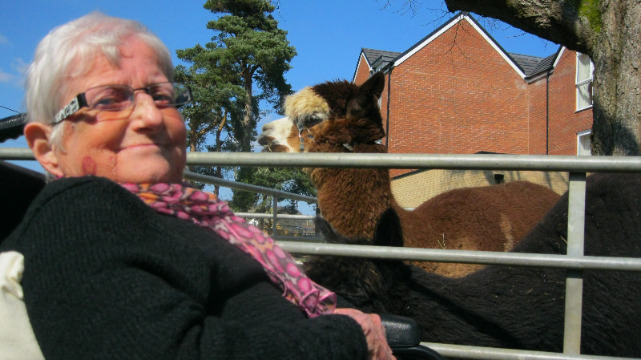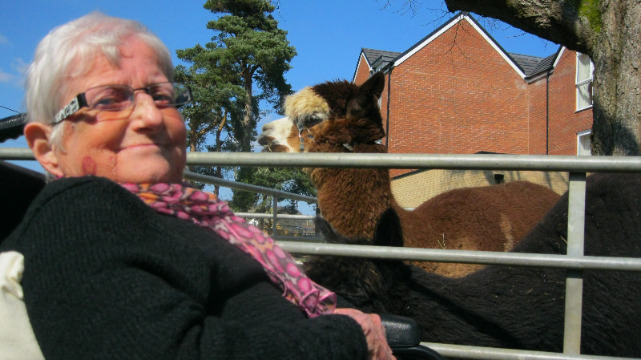 The long Easter weekend break that is enjoyed by so many who have two bank holiday days off merits thanks to those in many walks of life who have to work those days looking after others.
Those with the chance took advantage of the time off to get out to activities ranging from the opening of the road to Imber with an easter egg hunt in the village to the chance to nip to the seaside or visit the nearby tourist attraction of Longleat Safari Park.
There are Warminster residents who were not able to join in this traditional use of the weekend but enjoyed the occasion being brought to them by those caring for them.
Staff at the Ashwood care home in Gypsy Lane gave a taste of what others were enjoying in the sunshine with the arrival of some unusual vistors on the bank holiday Monday. Their very own animal farm to enjoy with family and visitors. 7th April

Hopper Bus Petition Latest
The Hopper Bus service to the Royal United Hospital in Bath on-line petition is attracting 100 signatures a day as the proposed removal of cash support by the local unitary council has once again highlighted the Conservative run approach to implementing cuts.
Wiltshire Council, whose slogan is 'where everybody matters', plan to slash £130,000 at a meeting in May which will seriously threaten the very popular service.
"This is a disgrace. The Hopper Bus is vital to Warminster twenty miles from the centralised NHS," says town councillor Paul Macdonald. "So many of us know someone who relies or has relied on this service."

"Warminster is the sensible home to this which also provides local employment. I urge everyone to support this 38 Degrees petition." 5 April (and see 19 March)

Hustings Meeting On Wednesday 8 April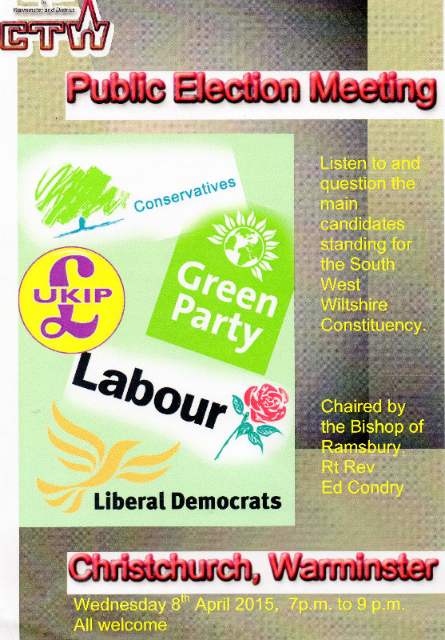 Five prospective parliamentary candidates for the SW Wiltshire seat are expected to attend a public meeting which many regards as the local launch of the general election campaign in Warminster.
The hustings, organised by the local churches, start at Christchurch at 7pm (see poster left).
The nomination process opens at 10am on Tuesday this week and closes at 4pm on Thursday. After that no further candidates can put their names forward.
The five known candidates (in alphabetical order) are all party political. George Aylett (Labour Party), Matthew Brown (United Kingdom Independence Party), Andrew Murrison (Conservative Party), Phil Randle (Green Party), and Trevor Carbin (Liberal Democrat Party). 5 April

'AAAAA' - The Latest Acronym
VFW add a new acronym 'AAAAA' to share with the CATG, SCOB, EBRAG, WVDT, WVCP, FLAG, STARAG, WWAG, GAG, OFWG,CSE, WCSB, GWH, ESIF, SWLEP and WC.

"This is just a light-hearted point but this is just a few of the grey cells testing initials that I have read or heard as a councillor over the past few days," says Paul Macdonald. "I wonder how many will be remembered fondly."

"Sometimes I have to admit nodding knowingly when someone uses them and quickly whisper to a colleague for help
"I think the record was when I heard three used in one sentence!"
*Definition of the acronym AAAAA - Acronym After Acronym After Acronym. 5 April

Car Parking Discussion Clamped

The Wiltshire Council parking services review has left a town council officer 'disappointed' by its timescale but has angered some councillors who have attacked the 'clamp' that demanded a response within days.
Warminster has been offered the chance to own peripheral four small car parks with an answer demanded by the end of March.
"To add insult to injury everything would then be signed, sealed and delivered, by the end of April," explained Cllr. Paul Macdonald. "This put a clamp on this idea as we have set our budget for the year.
"I proposed that the council write a strongly worded letter to the council about this deadline because they have extended other unreasonable deadlines in the past.

"I have sent an e-mail to the town clerk asking if we have had a response yet.
"It is important that we get this right because they are four least profitable and less strategic car parks which includes The Furlong and Smallbrook Nature Reserve and we should really ask them to throw another one into the pot." 4 April

'Register Your Vote' Deadline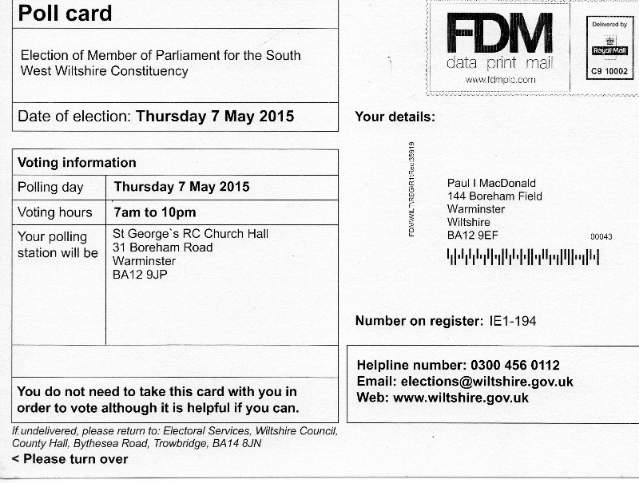 Warminster town councillor Paul Macdonald, who was a parliamentary candidate for the independent Liberal Party in 1992, is urging everyone to check that they and their family are on the electoral register as the countdown ticks away to the general election vote in May.
"I am on the register but at the last council election there were a lot of addresses with no one registered," explains Paul.
"I can see that with so much TV interest being generated by their leader debates there could be some angry scenes at polling stations when people turn up to find they are not able to vote.
"The contact details are on my polling card and Wiltshire Council will be able to help. Registration can be done on the internet but the deadline is Monday 20th April." 3 April

Mayoral outburst at committee meeting
Warminster Mayor Andrew Davis reacted to an attack on the Wiltshire Council by Independent councillor Paul Macdonald during a discussion about a request from Hillwood Lane residents for help with parking problems.
"Cllr. Davis in his outburst said he was unhappy with me continually saying what the public wanted to hear," said Cllr. Macdonald after the town development committee meeting.
"And yet when I said that it was wrong for Wiltshire Council to quite happily give planning permissions that exacerbate the problems and take money from developers and then tell local people they will have to fund the solution themselves there were many nodding their heads.

"And when I argued that the Highways department should not have told the residents to come to the town council that point hit home as well. We are not a highways authority.
"The county council is and that is why Cllr. Davis should listen and as I suggested get them to change their parking provision policy to use some of the cream they get from developers to address local issues." 24 March

Sign of the Times
Warminster town councillor Steve Dancey supported by fellow Independent councillor Paul Macdonald, a town development committee member, have produced a blueprint for new signage at the entrances to the market town.
Until now it has informed motorists and cyclists that Warminster is an 'ancient market town'. In future itis proposed that the words 'The Wylye Valley's market town' take their place

Committee members have agreed to the proposal by Paul that 'costings should be sought' and Wiltshire Council be consulted.
The new sign if agreed will also recognise the twinning with Warminster in the US state of Pennsylvania in 2013. Warminster has twinned with Flers in Normandy since 1973. 23 March

Dog Fouling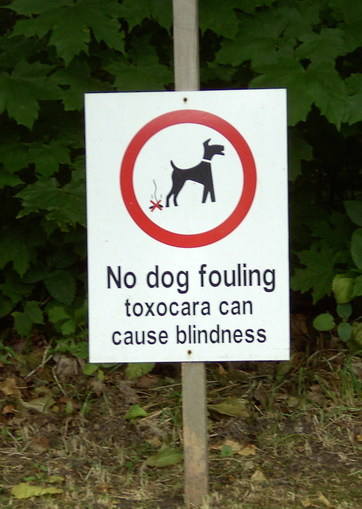 A dog fouling initiative proposed by Cllr. Paul Macdonald is now ready for launching in the towns of Warminster and Westbury. Warminster town council hosted a series of joint meetings between the Wiltshire two towns.
Warminster town council at their town development committee meeting have unanimously supported the new service.
"This is a major step forward in our campaign to restore civic pride in Warminster," said Cllr. Paul Macdonald. 20 March

Police Cadets
The outgoing police Inspector Alan Webb in his final report to Warminster town councillors. 'Warminster police are to form a Police Cadet unit for 13-18-year-olds. It is based on a pilot currently running at Cricklade' It is hoped it will be up and running by 21st June 2015.
Twenty one youngsters were recruited in 2013 in Swindon to public acclaim by the Police and Crime Commissioner's Angus MacPherson website.
The election for the Wiltshire and Swindon Police and Crime Commissioner was contested by then Liberal Democrat Warminster councillor Paul Batchelor. 20 March

RUH Hopper Service
Independent councillors launch an on-line petition to save the RUH Hopper service from £130,000 funding cut by Wiltshire Council. 38degrees.org.uk/petitions/campaign-to-save-ruh-hopper-bus? 19 March