Hot TOPICS
Town Council at it again
(April 14, 2013)
---
A FINAL jaw dropping piece of arrogance by the outgoing town council throws into sharp relief the choice facing voters on 2nd May in Warminster.
Last Thursday the Warminster Journal carried a double-page centre spread highlighting the 'achievements' of the council plus photos of the 12 sitting councillors - 11 of whom are seeking re-election.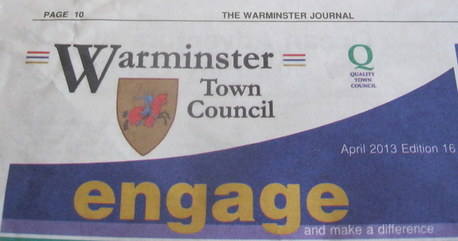 The advert was paid for by you the council tax payers and it was published in the middle of the time period known as 'purdah' when council statements are expected to be kept to a minimum and be non controversial.
Steve Dancey, who is an independent candidate, said: "This latest piece of arrogance clearly shows the straightforward choice facing the voters.
"The choice is between those who understand why it is so wrong for this piece of propaganda to have been published at taxpayers' expense at this time and those who do not.
"Those who cannot see why it is so wrong are, in my opinion, unfit for public office."
The issue is now in the hands of the electoral authorities at Wiltshire Council. Communities minister Eric Pickles will be appraised of the matter as well and unless we have redress the matter may well end up in court.
Steve Dancey, added: "I have met Mr Pickles and found him a very sensible minister. I know that he dislikes local council propaganda publications and gone as far as call them Town Hall Pravdas.
"We shouldn't be too surprised by the councillors' antics as this bunch ignored a 92 per cent vote against their plans to waste a million on the civic centre, otherwise known as Tirana Hall."
* The previous eight issues of the council Engage newsletter were published in June 2010, October 2010, February 2011, June 2011, October 2011, February 2012, June 2012 and October 2012. Not in April.