Hot TOPICS
Tons and Tons of Support
(June 05, 2020)
---
Over four tons of food from a local independent charity run solely by volunteers has doubled its efforts last month supporting those in need during the current Coronavirus pandemic which has left many in dire financial straits.
Adapting the way it provides help to those who need the Warminster and District Foodbank now provides sustenance to struggling families over the telephone or by e-mail.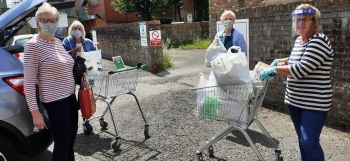 "With the ongoing committed support of our own Volunteers and new Volunteer deliverers the new arrangements are working very well for both our clients and the Foodbank," explained team leader Margaret Macdonald (pictured 3rd from left with Mo Woollard, Jenny Cooper and Brenda Kirwin trially a visor for the first time on Tueday).

"Our concerns about our provision of a listening ear for our clients, which is just as important as food provision, have proved groundless as any information or signposting to other services can be done by phone."
The charity based at Dewey House in North Row has been providing support to the local community including Mere, Codford, Westbury, Dilton Marsh and many more smaller communities nearby as well as the town since 2009.
The fully trained volunteers have seen a two-fold increase in food requests since the lockdown was launched by the government.
They are coping with it while still following guidelines about social distancing protecting both the public and volunteers.
Typically the extra demand has been caused by unemployment, benefit delays and government response times to requests to their special assistance schemes.
Hunger and Debt Avoided
The provision of food that used to be collected is now by home delivery.
Foodbank delivery of their bags of balanced healthly nutritional essentials is also arranged locally in Mere, Dilton Marsh and Westbury and the out of hours and emergency food provision service continues as before.
"At present we are distributing over 4360kg (over four tons) of food each month and during the last two months provided food to 643 people helping 376 adults and 267 children as well as to the homeless and other charities," added Margaret.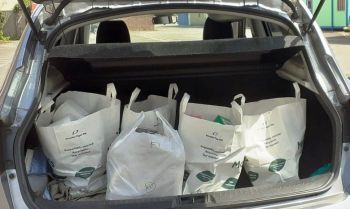 "None of this would be possible without the amazing continuing support of food and money donations from our local Communities as well as Morrisons, Waitrose and the MOD.
"As one of our clients, who recently received her long awaited benefit payment, said 'Without your Foodbank's support myself and my two children would have gone hungry and I would be in debt.
'Your food and signposting information has really helped us get through our difficulties.'
"On behalf of our clients Warminster and District Foodbank would like to say a huge thank you to all our communities for their continuing support," added Margaret.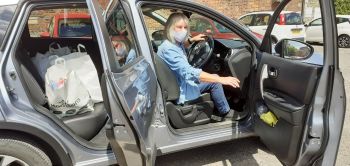 Donations of food can be made at various supermarkets around the town.
"I personally have set up a monthly standing as my way of supporting this charitable work," said local resident Paul Macdonald.
" I would encourage others to do the same as I believe it helps them to know they have a regular income."
*The Warminster and District Foodbank can be contacted on 01985 214663 or 07855 627945 and be e-mail to [email protected] with requests for assistance or offers of help.