Historic Warminster
WHILE this site is intended first and foremost for Warminster people it can be viewed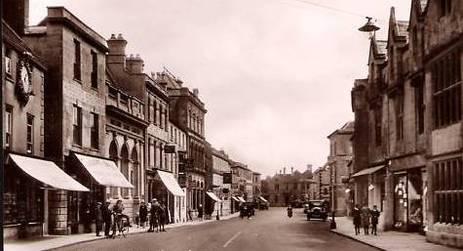 by those who may have never even visited the UK.

This short pictorial guide to the town's history and buildings has been produced with these people in mind.
Please inform us if you would like something added.
Right; the town in 1923.



By Steve Dancey



You sometimes see sloppy journalists describe Warminster as a 'garrison town on Salisbury Plain' but both assertions are somewhat wide of the mark.
While Warminster does have a relatively small garrison of one battalion, a tank squadron and some important training and maintenance facilities its history stretches back long before the arrival of the Army in 1937 and it should be

correctly

described as a market town.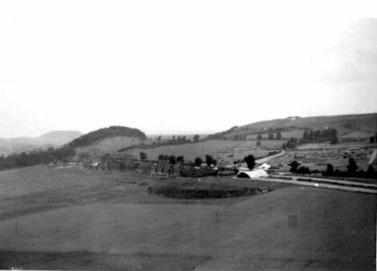 True garrison towns like Catterick, Aldershot and Tidworth have grown up purely because of the garrison and reflect the presence of the military in their centres while the historic centre of Warminster owes absolutely nothing to the Army.
Around 90 per cent of Warminster's population has no military connection while in true garrison towns the military are easily in the majority.
Similarly is it not correct to suggest that Warminster is on Salisbury Plain, although it is on its edge.
Salisbury Plain is a vast chalk upland stretching many miles across Wiltshire and into Hampshire.
Our photo, taken from Battlesbury Hill in 1937, shows the massive chalk outcrops of Copheap and Arn Hill and the chalk salient of Cley Hill in the distance. The first Army buildings are under construction but there is no sign of the Elm Hill officers' quarters which were built in the 1950s.
However, the town itself is lower down in the valley and is built not on chalk but on a greensand ridge, which helps give it its distinctive character.
Travel on to Salisbury Plain proper and further east to Hampshire and you will notice the paucity of historic buildings worthy of much note.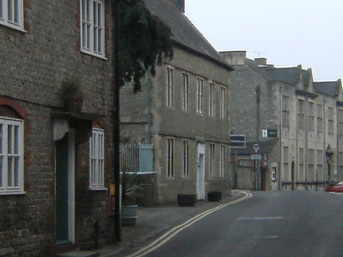 Only ecclesiastical buildings are likely to have survived for any length of time and these because they may have been built of stone or of hard flints.
In these areas the local cottages would have been made from timber and cob and have thatching

–

attractive to look at but not particularly durable.
This is not the case in Warminster where the dominant building material is stone.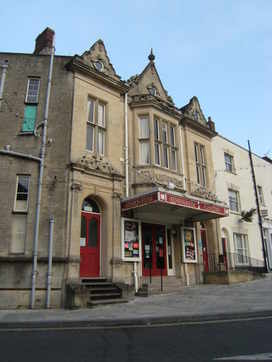 Cottages and minor buildings, such as many in West Street and Pound Street, are typically built from shaped rubble stone found locally in the greensand while more important and imposing buildings such as the Athenaeum,

(pictured left)

are built from ashlar Bath stone.
Brick only made a comparatively late arrival here

–

used in part of the Weymouth Arms in 1749 and at Craven House in 1774.
Historic buildings can be found extensively throughout Warminster and many are a demonstration of the wealth created in the town by the cloth industry in the eighteenth century. The Chantry,

pictured below

, is one such example.
Such prosperity was not to last however, as lacking a suitably powerful river and without its own canal, Warminster was unable to develop its cloth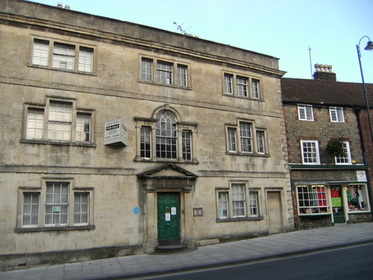 industry in the industrial revolution.
Nearby towns such as Trowbridge and Bradford-on-Avon were in a much better position in this respect and many large mills were built.
The last Warminster cloth works was gone by 1840 although a silk factory continued here until 1958.
Warminster was also well-known for its corn market which was said, in 1832, to be second only to Bristol in the west of England. But this trade also subsided despite the Marquis of Bath building a market house for traders. (It later became a garage but was the area was redeveloped for Tesco in the late 1960s when W T Wall moved its business to East Street - now the Esso filling station).
By 1851 the town's population was 6,285 but it took a further 111 years for it to reach 10,000 in 1962 and today numbers around 17,400.
During the late 19th century Warminster was regarded as a town which had fallen asleep and never woken up or a place where people rusted out rather than wore out, such was the lack of gainful employment.
However trades from that era still survive, that of gloving, malting and agricultural engineering.
The Warminster maltings is probably the last traditional maltster of its size in the country and supplies scores of real ale brewers up and down the land.
The Victorian firm of John Wallis Titt, famous for its wind driven pumps and other agricultural items still survives,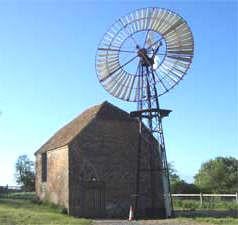 but

is now located in Frome. (Ceased trading in August 2009).
Wallis Titt's products, made in Warminster, are dotted all over the south of England including this 1891 example

(pictured left)

still operational in north west Hampshire.
The town's dormant period ended in 1937 with the arrival of a permanent Army presence which brought a significant amount of work to the town and still does today, although at a reduced level.
The other big influence for the past 400 years has been the Longleat Estate which owns large parcels of land and buildings.
In the 1960s the town gained great fame for the Lions of Longleat and on bank holidays long queues of traffic snaked through Warminster heading home from the attraction.
Local garages did a great trade in selling black tape used to make good damage to vulnerable cars caused by rampant monkeys in the safari park.
Warminster also hit the headlines for 'the thing' a mysterious UFO shape seen in the skies. Although many hoaxes were undertaken unfamiliar things were sighted but these are more likely to have been connected to military activity than little green men.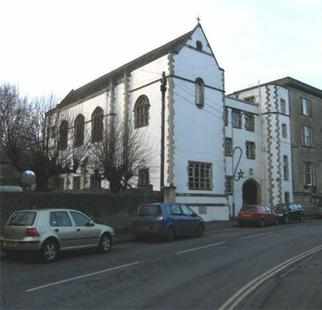 Another important influence until very recently has been ecclesiastical.
St Boniface Theological College was a popular training ground for Anglican priests until its closure in 1970.

(Pictured left)
For many decades nuns from the Convent of St Denys used to run St Monica's convent school for girls until 1973 when it merged with Lord Weymouth's School to form Warminster School.
The nuns continued to live in the town and were once a common sight though only a few now remain here.
There is also a retreat and study centre run by the Church.
No market town is complete without a long list of public houses to cater for all tastes.
Sadly we have lost a few in recent years with the Three Horse Shoes closing in 1965, The White Hart in the early 1980s and the Ship and Punch Bowl in 1984.
But we have also gained one in the shape of the Organ Inn.

(Pictured here)
The Organ closed back in 1913 and for many years was the home of Warminster Fish and Fruit which in turn closed in 2000.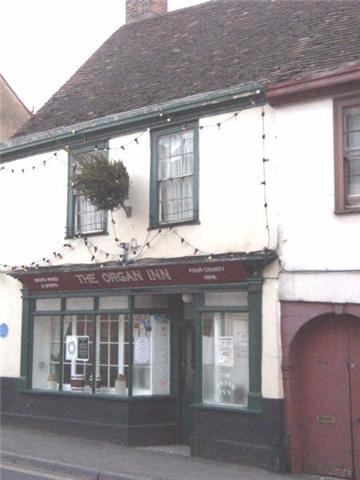 But The Organ was refurbished and was reopened after almost 100 years by the granddaughter of the last Edwardian landlord.
It is a very civilised place to drink these days with no loud music or pool and it was the first pub to be fully non-smoking.
Other pubs attract a variety of clientele and some can be lively.
Prince Harry who spent several weeks on the plain at the Land Warfare Centre chose to enjoy a session at The Old Bell and the John Barleycorn where he is rumoured to have downed some man-sized cocktails.
Prince William also spent time at the training centre and used to arrive at the gates each morning on his motor-cycle after riding through the town without attracting any attention.
As well as providing a rich seam of historic interest the town is at the centre of a wealth of other attractions dating from prehistory to the Victorian era.
Stonehenge, Avebury, Silbury Hill, historic cities such as Bath, Wells and Salisbury as well as dozens of grand houses make up an unrivalled cocktail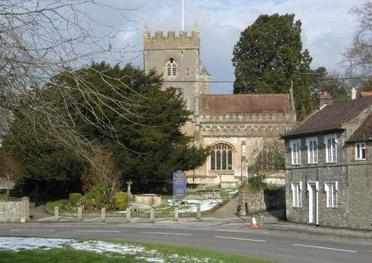 which we should really be doing more to promote.
Pictured left is the Minster church, in Church Street, a 2* listed building.
The yew tree at the front ofthe building is reputedly 1,000 years old though some doubt this. The town's only grade 1 listed building is in fact Portway House in Portway.
The town is named after the church which is next to the River Were - hence Wereminster. The county is also named after a Celtic river name. The River Wylye produced Wylyetown (Wilton) which in turn produced (Wylyetownshire) Wiltshire.
Daniell's History of Warminster can now be viewed on line Click
HERE