Hot TOPICS
Hedgehogs through to Alzheimers Sufferers Help
(June 12, 2020)
---
Warminster Town Council have given out over £19,000 in grants to back community groups in the town that provide support or opportunities to local residents.
The 16 grants agreed range from £100 to five cheques of £2,000 each to organisations mostly to those which regularly receive their support.
A relatively new group, Sustainable Warminster, sought help and were awarded with just over £1,800 to help with their work protecting local wildlife.
"This grant will enable us to buy two portable triangular beware toad signs to help with our work at Smallbrook Road and the nature reserve," said group treasurer Harriet James.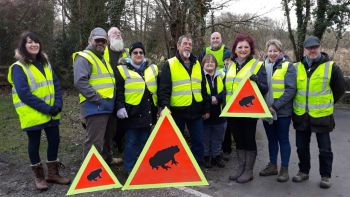 The toad patrollers will now be able to turn their attention towards the plight of a prickly problem.
"We will also now be able to supply 150 'hedgehog highway' signs to residents who can make safe passages for hedgehogs through their garden fences," added Harriet.
Alzheimer's Support will use their four figure sum to support several hundred local people with help ranging from telephone services to activities at the Old Silk Works in Beech Avenue.

Incredible Edible Garden
The smallest grant was £100 which was given to the Incredible Edible Garden project.

The Athenaeum Theatre have also been awarded the maximum £2,000 to replace an inefficient boiler as has Warminster Town Football Club to replace entrance doors and two windows.
Warminster Arts Week got the maximum amount for their events planned for September and activities all year round.
Another sports club to get maximum support was the cricket club in Sambourne Road that needs new rollers.
The Help Counselling service received £300, the Groveland Countryside and Wildlife Park £500, Wiltshire Sight £700 with Relate and the Warminster Community Choir getting £720 each.
Two others got a four figure boost from the town precept.
The MS centre have received nearly £1900 to provide automatic doors in the building help wheelchair users
Volunteers who look after Copheap need equipment to help their work maintaining the areaf or use by the public also received a large grant.