Hot TOPICS
Church Emerges from Lockdown With A Lot of Handwashing
(July 02, 2020)
---
The traditional sight of fathers walking the bride down the church aisle is to remain banned for the foreseeable future but the oldest church is Warminster has taken its first tentative steps towards serving its congregation.
St. Denys Church in Bath Road has taken the step of opening its doors for one day a week for private prayer and reflection on Wednesday for six hours starting at 10am.
"These are tricky times," explained Rev. Jacques Desrosiers.

"Weddings, funerals, baptisms, holy communion are all tricky and we are now reading the detail of how we can move forward from Saturday 4th July."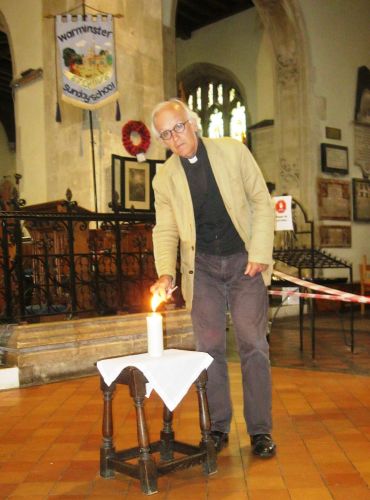 The 400-year old Minster church as seen some changes over those centuries now looks a lot different inside as almost everything but the pews have been removed or sealed off to prevent cross contamination.
There is a solitary candle burning and the altar is lit up but the votive stand which is usually full of candles for individuals to light up in memory of a loved one has been removed. (Picture - Rev. Desrosiers lights the falame of hope and comfort)

"It is known as St. Patrick's Candle and is a slow burner which will stay alight for seven to nine days," explained the rector.
Those wishing to say a prayer have to bring their own bible and observe the two metre distancing request.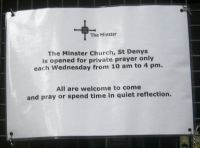 "We have put up clear signage about social distancing, washing hands with sanitiser before and after visits, and the pews have been pushed together creating two metre distancing."
Weddings, baptisms and other ceremonies were all stopped when the coronavirus lockdown was imposed in March.
Under new guidance socially distant weddings will be allowed shortly with newly weds having to wash their hands before and after exchanging rings with them being handled as few as possible .
No more than 30 people, including the photographer, can attend the wedding and other ceremonies will have the same restriction.
No rush to re-start
"We have a lot to think of as we prepare to move forward," added the rector of Minster Church which is one of four in the River Were Benefice.
"St. Aldhelm's Church at Bishopstrow is very popular for weddings."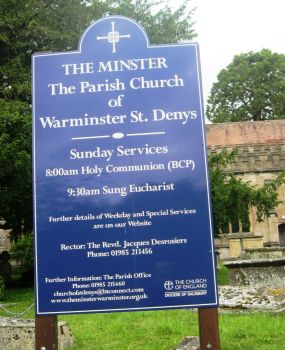 Currently there are weddings on lockdown hold with two now planned for the Minster and one for Upton Scudamore before Christmas.
The House of Bishops endorsed a statement made by the Bishop Of London, the Rt. Rev. & Rt. Hon. Sarah Mullally stressing 'this would not be an immediate return to normality, and the government advice is permissive not prescriptive.
'Churches that are not fully ready by July 4th should not feel any obligation to rush to restart public worship.'
St. Aldhelm's, St. John's Church in Boreham and St. Mary's Church in Upton Scudamore remain closed as time is needed to carry out a careful risk assessment.
"We hope to hold our first Sunday services on 12th July and I am giving a lot of thought to how we proceed," said Rev. Desrosiers who was going to bring a tape measure on his next visit to the church.
"We will use commonsense when it comes to issues like singing which will not be allowed at the moment. The organist will play some music as he is safely distanced to provide some ambience.
"I know that I am going to be doing a lot of handwashing!"