Hot TOPICS
Village Dancing Pandemic Folklore
(August 05, 2020)
---
The resilience of local communities both large and small have been tested to the limit over many pandemic months this year with many residents finding ways of staying positive and none more so than a small parish in Wiltshire.
The tiny village of Bishopstrow on the outskirts of Warminster famed for the legend of St. Aldhelm planting a staff there which grew into a tree responded with a morale boosting socially distanced public courtly Morris Dance.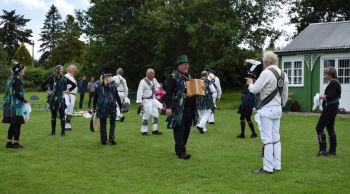 The 600 hundred-years-old entertainment, first witnessed at a royal court in London, was used to add cheer to coping with the crisis by the Chair of the Parish meeting, Mike Perry, to complement the weekly hand clap for the NHS.
Morris dancers once spread the folklore word of Robin Hood and Maid Marion which made it a unique and appropriate way for the village to say thanks.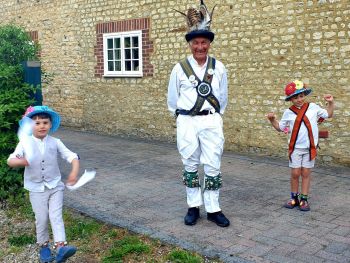 "The past few months have been challenging for us in Bishopstrow," said Mike.
"From the outset we have worked hard to keep in touch and make sure that our more vulnerable villagers were cared for.
"The weekly 'clap for carers' took on additional significance as we have many care and key workers in the village."
Bishopstrow is a village of little more than 100 residents which once again provides the opportunity at its refurbished village hall for safe social activities but it was also the sight recently of dancing in the street.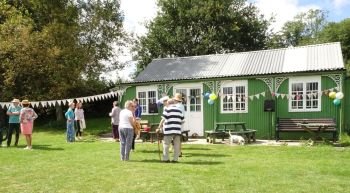 "VE day was a special day for us with the street decorated in bunting and resounding to the tunes of the 1940s and with Vera Lynn belting it out," enthused Mike.
"It was a street party with a difference. Distanced but socially engaged with some fizz to help the celebration."
It was accompanied during the easing down of lockdown by the White Horse Morris side practicing their dancing on the village field with locals enjoying the spectacle first seen in 1448 in London.
Bishopstrow continues to emerge from lockdown. Speedwatch is up and running again which has revealed that lessons still need to learned.
"There are still some stupid people about," said Mike. "The record is 54mph."
"The village hall has re-opened for a range of activities from Pilates to Scottish country dancing to bridge."
All us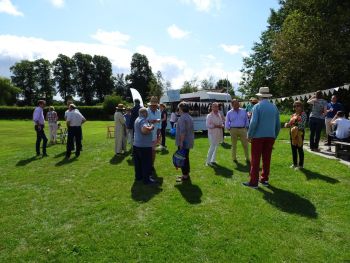 e of the refurbished building is set up to achieve pandemic requirements.
"Bishopstrow has a secret dating from the 1800s," revealed Mike about the former cricket pitch. Home to another community asset.
"The pavilion on the field was given to the men of the village as a place to meet. Men and women still meet there, mainly to play snooker and it's traditional name of the 'Mens Club' has been retained"