Hot TOPICS
Droves Cause Shock Town Council Result
(May 11, 2021)
---
There were shock results in the town council elections counted on Sunday as a former Mayor lost his seat and a last minute Independent candidate topped the poll by 200 votes with 13 Conservative seats up for grabs.
"I was hoping to get elected but this is now a huge vote of confidence in me which I will put every effort into matching," said Paul Macdonald.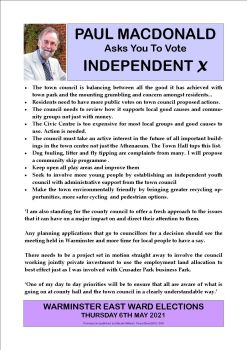 "I started being told that with the Tories riding high in the polls nationally I could not win but so many people were really encouraging and I got inspired by their words and offers of help.
"I put a lot of effort into being seen delivering my leaflets and letter to the electors so that residents could get the chance to stop me and tell me of their hopes for the town. That happened a lot.
"I picked up a lot of negative vibes. I listened to them. I said what I thought that we together should do and I could see nodding in agreement.
"They voted for my community based parish pump approach in droves.
"A bit of sunburn and very tired legs have been rewarded with Independents John Syme and Stacie Allensby to join me for four years of what I feel will be the real achievement of public involvment at the town council."

Independent Stacie Allensby beat former Mayor Tony Nicklin who has been rejected twice now by the electorate.


"I wanted local people know that I had listened to them for years now, thought this needed changing, and wanted to get up and have a say on thier behalf," said Stacie.

"Delighted that I now have the chance. Traffic along Silver Street will be made top of our list as just a start."
Independent John Syme also elected came second pushing another former Mayor, Rob Fryer, into third place to represent the Broadway ward.

"Looking forward to getting things done instead of coming up with reasons why they cannot be done," said John.

"Damask Way is top of my list as we need to establish that arguments from ecologist will not be ignored and cary weight!"

*Residents are still awaiting the town council to publish the results of the election with the thirteen names that are now your councillors. Wiltshire Council carried out the county on Sunday.