Hot TOPICS
Police Service Election Knockout Blow Choice
(July 10, 2021)
---
Two local community leaders this week have taken an interest in the upcoming controversial re-run of the county Police and crime commissioner election caused by the disqualification of the winning candidate in May.
"I met the Independent Police and Crime Commissioner candidate Mike Rees at his boxing gym with Independent Warminster town councillor Paul Macdonald," said Heytesbury parish councillor Vanessa Sturmey.
"Over coffee he explained he was the only candidate with a policing background and how he would like to use his 30 years experience to improve policing in Wiltshire,"
"He says 'I genuinely care about making sure that the Police Officers and Police staff have the necessary managerial support, funding, resources and equipment to carry out their vital role' adding 'many people have questioned the necessity and purpose of the role of Police and crime commissioner,"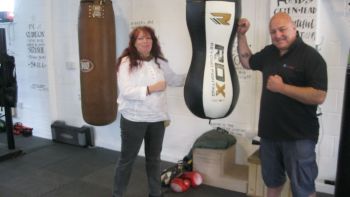 "Mike said 'I'd be a liar if I said I've never had the same thought.
'However, the Government have made it clear that the role is here to stay, so my view is that if you're going to have a PCC they must be politically neutral, effective and actually make a difference,"
"We spoke about local issues concerning Warminster and the villages and he has some great ideas in these challenging times. He has my vote on the 19th August." Vanessa pledged.
Knockout Blow Needed

"Mike has my vote. But more than that. We need the town of Warminster and its villages to ensure that Wiltshire Police is independent of Westminster party politics," said Cllr. Paul Macdonald.
"Wiltshire needs a commissioner who has on his cv years of dedicated police service so knows the job that our 'bobbies' are doing, which none of the others seem to have, and impressed me with his straightforward answers to my questions,"

"Mike has continued to serve the community in Malmesbury since leaving Wiltshire police as well as setting up his business,"
"Mike Rees is definitely not punching above his weight in this contest. He has all the attributes to serve the Wiltshire community well when it comes to the role of Police and Crime Commissioner.
"I have no hesitation in supporting him as the candidate we need and would happily sign his nomination paper," added Paul.
Several party political candidates are expected to have submitted their nomination papers when nominations close on Friday 16th July.