Hot TOPICS
High Street Eyesore
(May 13, 2015)
---
Will Petition see the 'Blindfold' to Scaffold taken off?
Another local community champion in the market town of Warminster with different letters after his name has called on Wiltshire Council to act urgently to tackle an eyesore.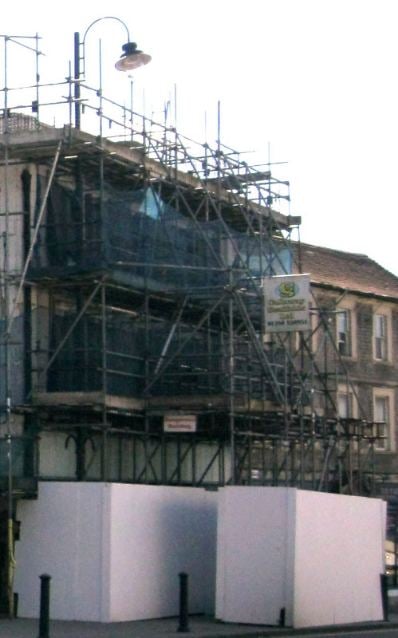 This time local resident Michael Heaton IHCP, having launched a petition about the years-old scaffolding in the High Sreet that attracted 540 signatures in two weeks, has sent it by post to Councillor Toby Sturgis.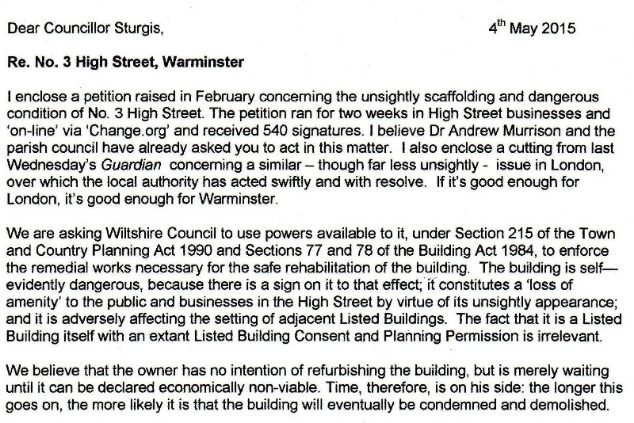 Michael Heaton, well-respected locally for his plain-speaking on behalf of the Civic Trust and at town council meetings on local issues, has written to the cabinet Wiltshire Council member responsible for the lack of action.

Michael has attached the petition and a cutting from a national newspaper about how quickly London can act 'swiftly and with resolve' to tackle a 'though far less unsightly' problem.

"In his letter to the unitary authority cabinet member (above) he writes about Dr. Andrew Murrison who has been elected again also with letters after his name as our MP," says local town councillor Paul Macdonald.
"Will Wiltshire Council remove their blindfold to this scaffold and stop ignoring the concerns of locals like they ignore the concerns of the MP."
*Institute of Historic Building Conservation.