Hot TOPICS
Wheels Stop Turning For Batchelors
(February 14, 2016)
---
The wheels have stopped turning after a market town business that has for decade after decade stretching back to the days of Queen Victoria survived the economic cycles of good and bad times has finally called it a day.

Batchelors Cycles was the popular shop holding a prominent position in the Market Place at its junction with Station Road for many years until it moved to a new position opposite the Three Horseshoes Mall just up the road.

It vacated the shop there very recently planning to re-open elsewehere in the town but its chosen new start fell through.

'After much deliberation it is with a heavy heart that we have decided not to re-open a shop on the high street,' an internet message from owner Paul Batchelor announced.

'We are still trading via our eBay shop Bikz100 where you can find our remaining stock

'Alternatively we can be contacted through our website bikz.co.uk.'

Warminster in recent times has become increasingly popular for cyclists as a result of the Warminster Wobble and there have been new improved cycle routes from West to east across the town.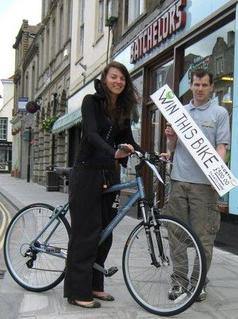 'Paul and Darren (Darren pictured with a bike donated to the Warminster Wobble raffle) appreciate immensely thesupport and good wishes from so many of you during the past few months.

'It has been a pleasure to serve Warminster throughout our long trading history.

'The history of Batchelors can be traced back to the 1880s through the Warminster Cycle Works and Hutton and Co who were manufacturers of patented cycle display stands.

'Perhaps it is only fitting that we make this announcement through social media and the Goliath which is the internet.

'The very thing which has changed forever shopping habits of the 21st century,' the social media message concluded